Strengthening Corporate Culture
Our corporate culture encompasses the vision, mission and values of AAHK. We continue to promote our five core values – the "5Cs" – to further embed them across the organisation.
AAHK's "5Cs" Core Values
Caring

Care for people
Care for environment

Commitment

Can-do attitude
Willing to walk the extra mile

Creativity

Embrace change
Think out of the box

Continuous improvement

Strive for excellence
Continuous learning

Collaboration
In 2018/19, we launched a two-week wellness programme to promote AAHK's care for its employees. Geared towards enhancing the well-being of staff, a series of activities emphasising the importance of striking a healthy work-life balance and adopting an active lifestyle were successfully organised.
Q&A with Queena Pun, General Manager, HR Relationship Management and Melody Yeung, Manager, Organization Development
Q:What sparked the idea to organise a series of wellness-related activities?
In line with AAHK's core values, in particular "Care for People", the Culture Promotion Committee has initiated programmes with fun and exciting activities around staff caring to promote general awareness on health and well-being.
Q:Please tell us about AAHK's first Wellness Programme.
We kicked off the 2018/19 Wellness Programme in September 2018 with the roll out of AAHK's first 'Wellness Weeks', which was followed by the 'AAHK Steps Challenge Campaign' between February and March 2019.
The Wellness Weeks covered different dimensions of wellness including physical, mental, social and financial health. We spent a lot of time curating a wide variety of activities that would help our staff to learn more about wellness with fun. During the two-week period, over 40 booths, classes, talks and workshops were held across our premises. Some of the topics covered include nutrition, office ergonomics, stress management, healthy family relationships, and financial planning. Additionally, various wellness activities were organised such as yoga, tai chi and circuit training, as well as rejuvenating with invigorating head-to-shoulder massages. Free consultations around healthy diet, traditional Chinese medicine and posture analysis were provided.
The Steps Challenge took place six months later as the second wave to promote wellness riding on technology to deliver a company-wide competition to see who can lead with the most number of steps. A step tracker was given to each staff as a corporate gift. Over 80 million steps by more than 1,000 participating staff were recorded in the two-week period, which is equivalent to walking 1.2 times around the globe.
Q:What do you inspire AAHK staff to do in the future to improve their well-being?
From the useful and practical tips provided from our Wellness Weeks Programme, we hope our staff will continue to actively pursue a healthy and positive lifestyle that leads to a state of holistic well-being. In the meantime, stay tuned for the next round of Wellness Weeks as we aim to share even more ways to get healthy and lead a positive lifestyle.
Q:Could you share a fun or memorable moment during the Wellness Programme?
We felt so excited when the results of the Steps Challenge revealed that each participating AAHK staff on average walked 8,454 steps each day, exceeding the Hong Kong average of 6,880 steps by 22%. As Hong Kong's first employer to deliver a corporate steps challenge campaign utilising technology in an innovative way, we successfully motivated over 1,000 AAHK staff to 'walk-for-health' and lead a more active lifestyle.
Fostering a culture of continuous improvement
The Work Improvement Team (WIT) programme encourages frontline staff to embrace creativity and develop innovative ideas to generate value and improve operational performance. In its third edition, more than 240 staff from eight departments took part in the programme and implemented 43 new improvement projects. To foster a culture of teamwork and continuous improvement across the airport community, the WIT programme was extended to the airport community.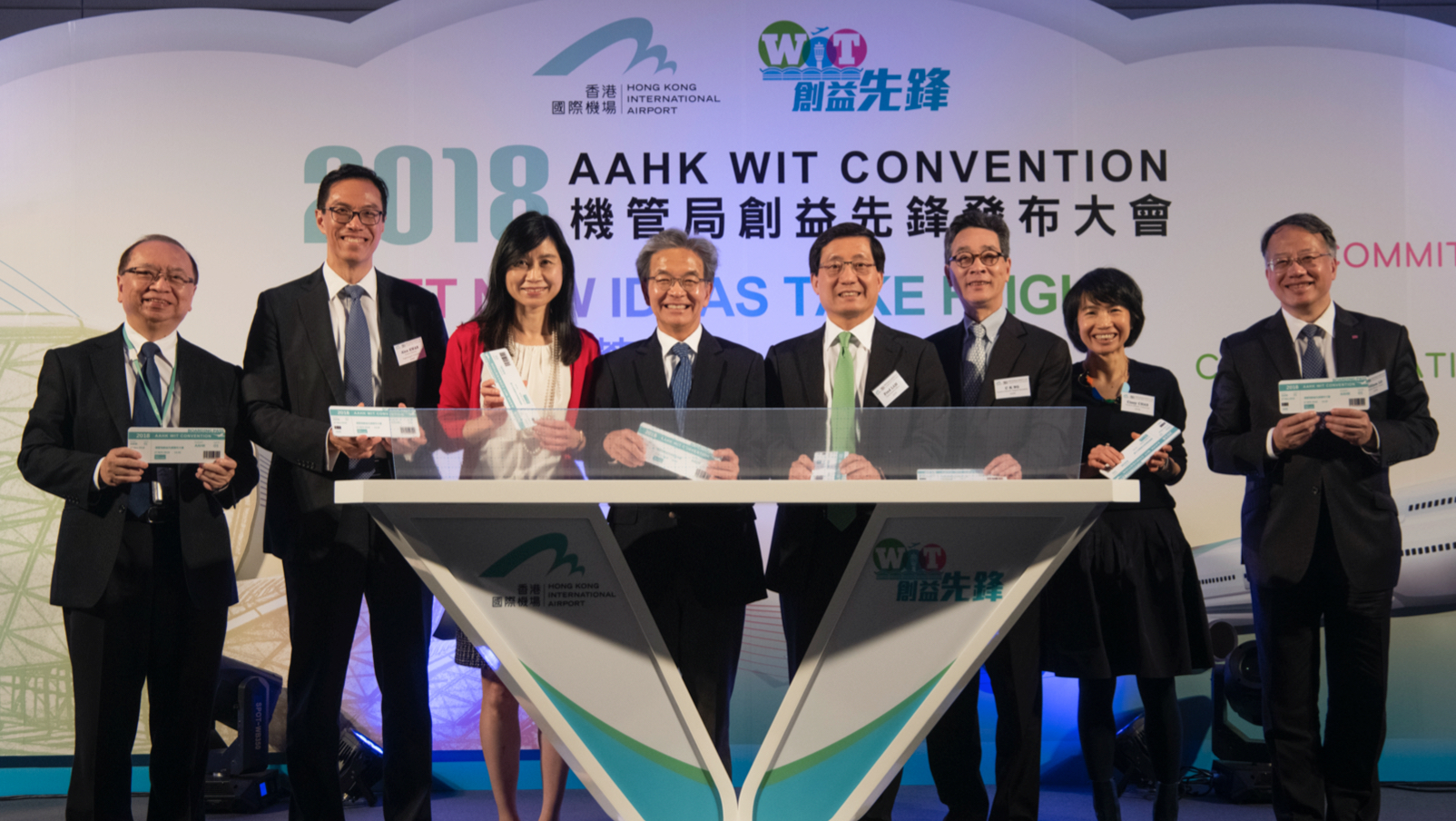 The 2018 AAHK WIT Convention
Recognising outstanding performance
The Staff Recognition Programme awards outstanding employees and teams for demonstrating exemplary achievements and performance along AAHK's core values. In 2018, the Corporate Recognition Programme recognised eight outstanding teams and two outstanding employees. Our Chief Executive Officer presented the awards at our annual dinner held in January 2019.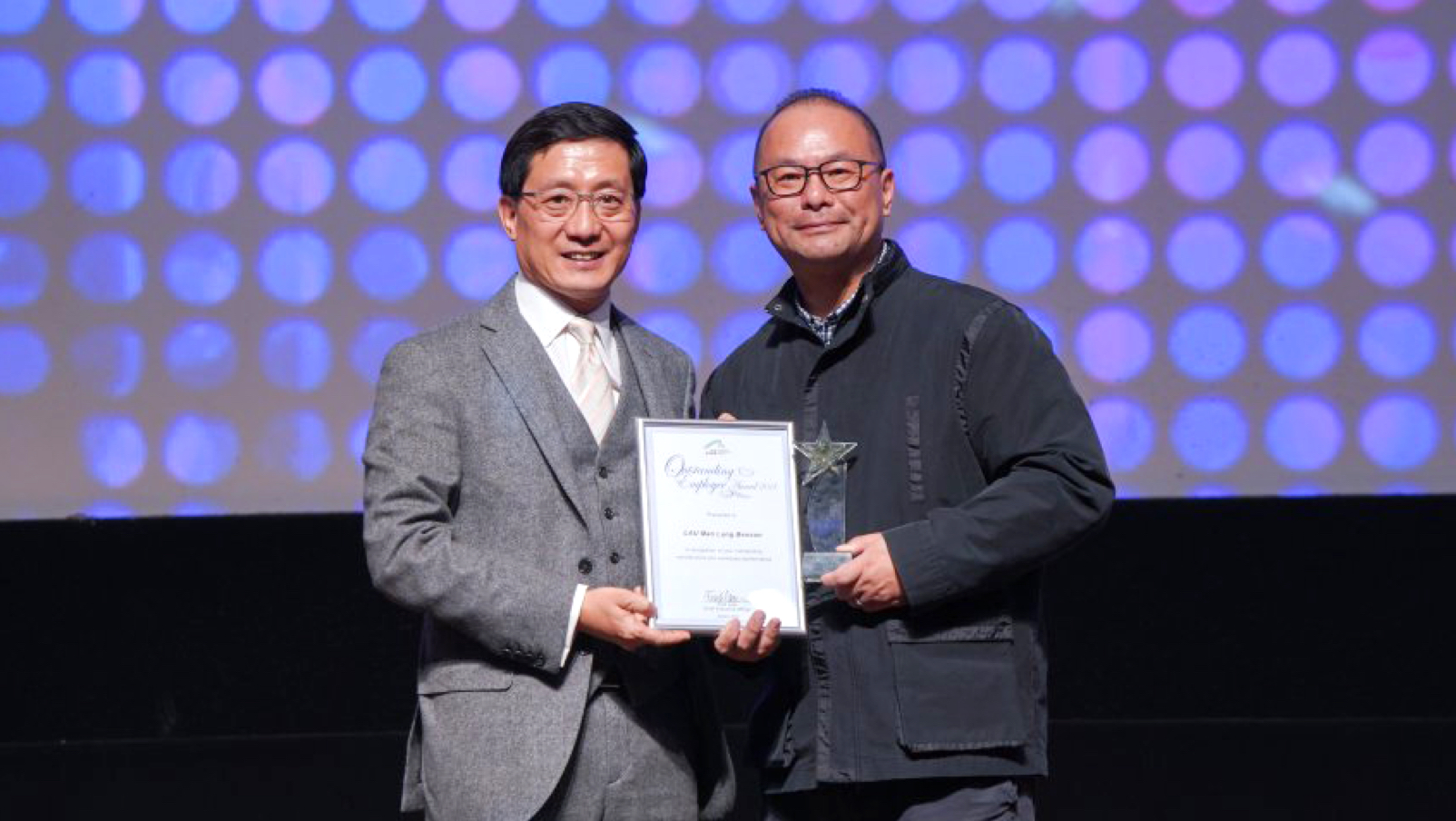 Outstanding Employee Award recipients