Passenger Experience
Despite ever-increasing passenger numbers, we are progressively upgrading the airport to redefine people's expectations for a smoother and more personalised journey. Our smart airport initiatives are utilising biometric technology to offer a more convenient choice to passengers, while increasing our security and handling capacity. Together with the enhancement works to Terminal 1 and a reinvigorated dining and shopping experience, we are making substantial investments in new technologies and services to reinforce our status as one of the world's premier aviation hubs.
A welcoming environment
HKIA is creating a seamless travel experience by utilising facial recognition technology to enable passengers through various checkpoints from check-in to boarding using their face. A 'single-token' digital identity will be created at check-in by matching a passenger's biometrics and passport. This improves the airport experience by reducing the need for repetitive travel document checks and queuing time.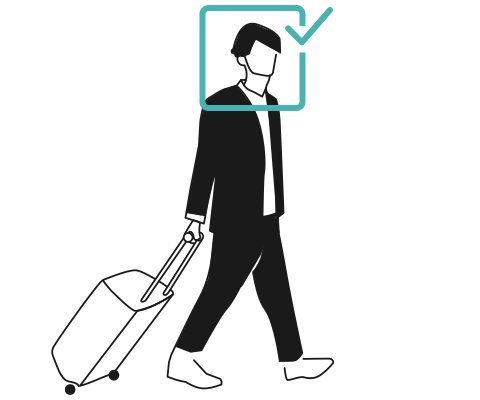 We are also investing in a series of enhancement projects for Terminal 1 (T1) that will provide a vibrant fresh look and feel. One of the key initiatives is the revamp of our boarding gates, while others include upgrading existing amenities and services and introducing new ones.
Key initiatives
44 e-Security Gates were installed at the departure security checkpoints in T1 in 2018/19 as part of a plan to implement a single-token travel experience. Equipped with facial recognition technology, the security processing time takes about 20 seconds. More e-Security Gates will be installed in 2019/20.
HKG MyFlight mobile app added new features such as traffic updates, online payment for airport parking and a chatbot to respond to enquiries.
Designs for revamping 49 boarding gates in Terminal 1 were finalised.
The Airport Shopping Ambassadors programme was launched to provide passengers with advice on the shopping and dining offerings at HKIA.
A wider range of dining choices has been introduced along with the renovation of East Hall food court was completed with increased seating capacity and more premium food offerings.
New shop categories, such as athleisure wear, kids concepts, wellness services and lifestyle bookshops, were added to offer more diversified retail choices.
HKairport Shop makes shopping easy by enabling passengers to order purchases online and collect them before or after flight at HKIA.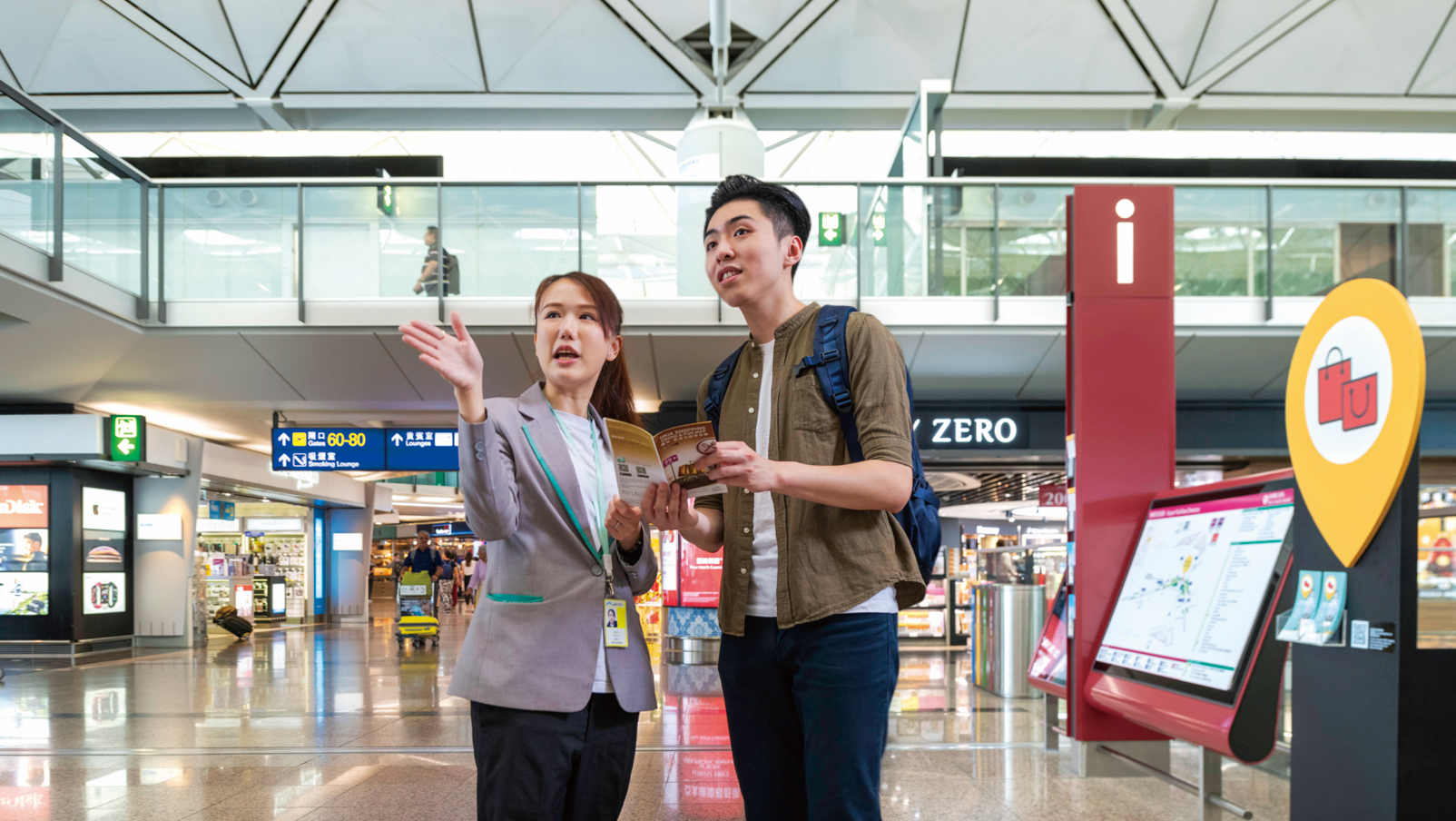 Airport Shopping Ambassadors to provide passengers with advice on the shopping and dining offerings at HKIA
We achieved an overall satisfaction score of 4.87 in the 2018 Airport Service Quality Survey managed by Airports Council International, meeting our target for 2018/19. We also maintained a low level of passenger complaints, despite the record-breaking number of passengers and the pressure of approaching full capacity of HKIA.
Annual overall satisfaction score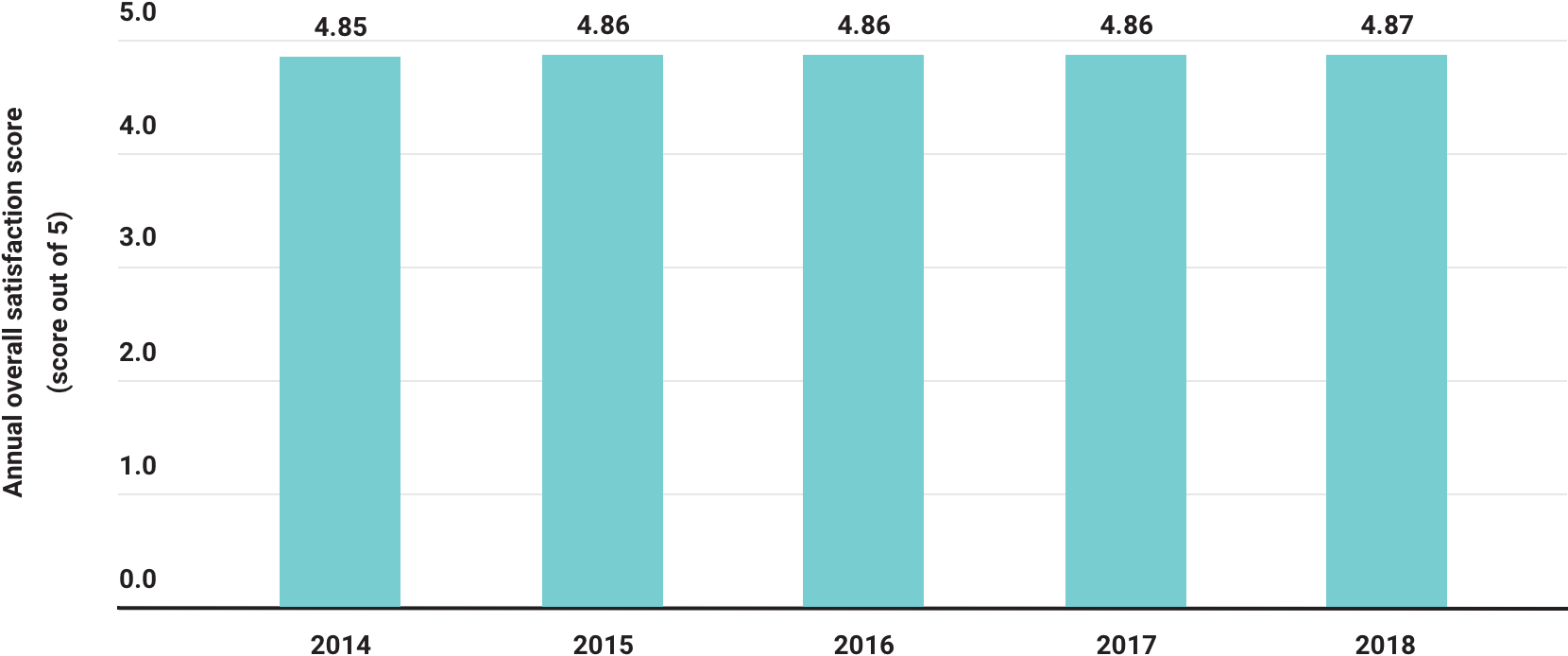 Index of complaints received