Waste Management
Waste is one of Hong Kong's most pressing environmental issues. Our approach to waste management is to reduce the absolute amount of waste generated, facilitate waste separation at source to promote recycling, and explore other disposal options. While we do not expect to achieve our target to reduce, recycle and recover 50% of our waste by 2021, we remain committed to looking for innovative ways to accelerate the reduction of waste at HKIA.
Recycling performance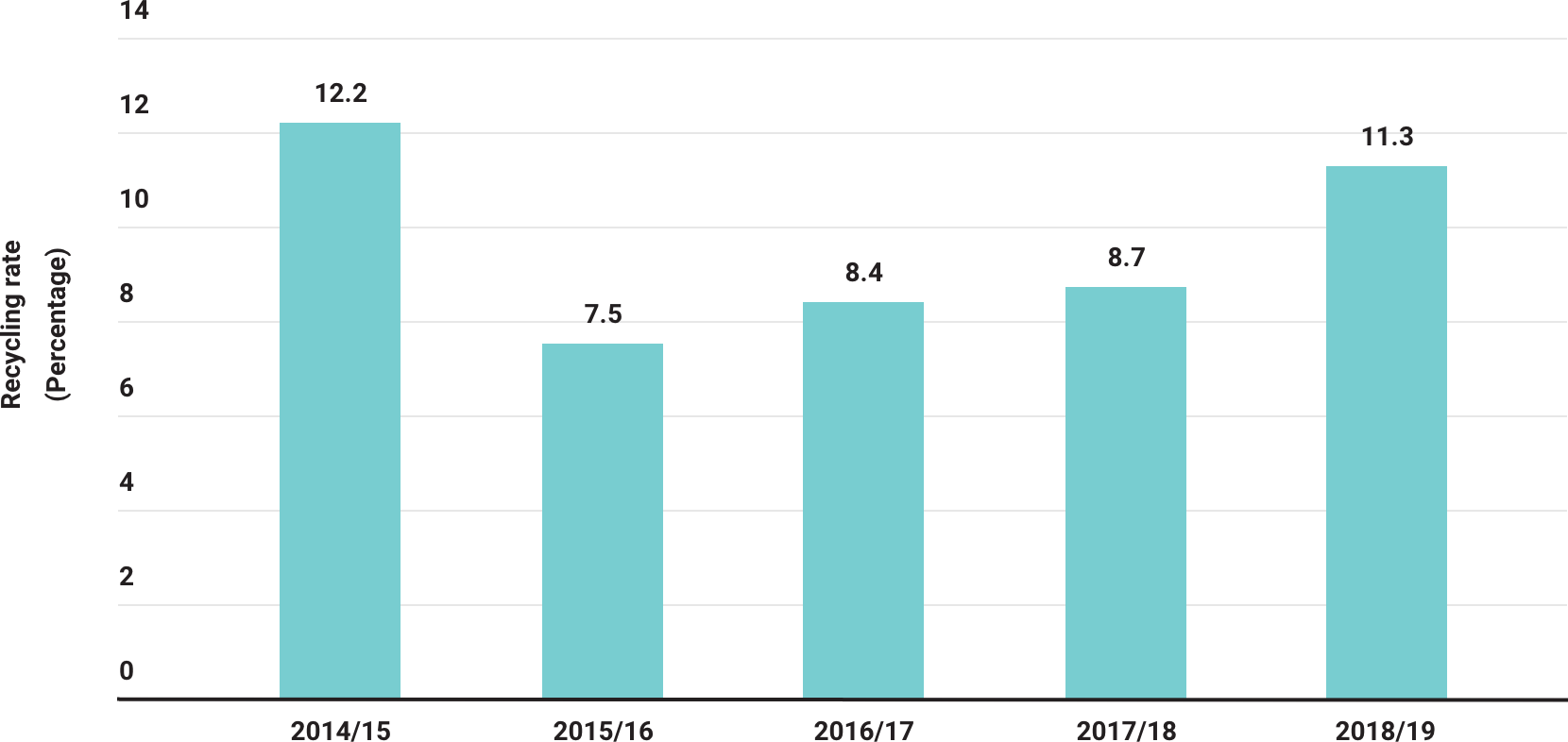 Our three-pronged strategy to waste management
| | |
| --- | --- |
| 1. Waste reduction at source | Minimise consumption to avoid disposal. |
| 2. Facilitation of recycling | Encourage recycling through engagement, improved facilities, and behavioural change. |
| 3. Alternative disposal options | Explore other disposal options as an alternative to landfilling. |
Key initiatives
Waste reduction at source
Reducing the use of paper towels in washrooms – As a result of the trial carried out last year, the installation of hand dryers in HKIA Tower will begin in 2019/20. An increasing number of our renovated washrooms in Terminal 1 feature hand dryers at each basin.
Improving the framework of surplus food collection – Initially supported by the HKIA Environmental Fund, the HKIA Food Rescue Programme, which is operated in partnership with local NGO, Food Angel, collects surplus food at HKIA and nearby communities. The programme was converted to a commercially-based service contract in 2018/19 in recognition of the value of the programme and to provide greater certainty to Food Angel's business planning.
Facilitation of recycling
Waste charging – A 20-month MSW charging pilot scheme that involved 215 restaurants, retail shops, offices and airlines operating at HKIA was completed.
Alternative disposal options
Supporting research into circular economy – Through the HKIA Environmental Fund, we approved funding for a second study on transforming food waste at HKIA into value-added chemicals. Having completed the proof-of-concept study in 2018, The Hong Kong Polytechnic University will lead the research for developing valorisation technology to convert starch-rich food waste into useful chemicals.
Q&A with Tammy Fung, Assistant Manager, Environment
Q:What is the purpose of the MSW charging pilot scheme?
The government's proposal to introduce MSW charging aims to create financial incentives to drive behavioural changes in waste generation. In line with the "quantity-based" and "polluter-pays" principle, charges are based on the quantity of waste generated, so that people become more aware that waste disposal comes at a cost. The proposed legislation is anticipated to have financial and operational impacts to AAHK and our tenants at HKIA. We wanted to involve our stakeholders in a pilot scheme ahead of the formal introduction of MSW charging to gain a better understanding of the legislation, give them an early start in experiencing the waste charging process, and collectively determine the most cost-effective and efficient approach to implement MSW charging at HKIA.
Q:How did the pilot scheme help HKIA to continuously improve on its waste reduction?
The one-year onsite pilot was rolled out over six phases and covered over 200 participants representing approximately 50% of the businesses operating within our terminal buildings, including food and beverage outlets, retail shops, offices, cleaning and waste contractors as well as airlines and their line maintenance operators. Each phase spanned over four months to allow for a period of comparison between waste generation at the beginning and at the end, which could demonstrate reductions as a result of the scheme. Additionally, this time period allowed for a sufficient learning period to ensure all participants complied with the scheme to the best of their ability.
To increase the amount of waste recycled, we encouraged our tenants to expand the types of recyclables being separated and airlines to separate waste on-board. Our waste refuse rooms were enhanced with additional bins for recyclables.
Q:What were the major challenges encountered during the pilot scheme?
One of the challenges we observed early on related to concerns from participants. Some participants were understandably concerned about increased workload of their staff and changes to their current waste disposal practices. It was therefore important to engage early and let them know how they would be involved and could benefit from the pilot. The briefing for each phase was conducted two months ahead of the commencement of that phase to allow sufficient time for preparations.
Cleaning contractors are third parties hired directly by our tenants to collect and dispose of their waste. Their understanding and support of the pilot scheme were critical to its success. As such, we conducted separate briefings to engage cleaning contractors and secure their buy-in for the scheme.
As each phase concluded, we analysed the data to determine whether the pilot scheme made any real behavioural changes in waste disposed. As this was a pilot scheme with no actual charges imposed, the impact of a financial incentive for participants to reduce waste could not be assessed. Nevertheless, the experience and the estimated MSW charges provided through mock invoices provided a good reference point for AAHK and waste producers once MSW charging is legislated by the government.
Q:How did you collaborate across AAHK departments and business partners to develop a cost-effective and efficient charging approach?
AAHK adopted a multi-stakeholder approach in collecting views. Internally, a cross-departmental steering committee and working group were established to formally engage with key departments throughout the project. For external stakeholders, briefing sessions were held with prospective participants and their cleaning contractors. Additional awareness raising sessions, such as onsite coaching and inspections, were provided to those who signed up to the pilot scheme. This collaborative and consultative process was instrumental in developing the final methodology of the HKIA MSW charging scheme and ensuring any scheme adopted was supported by the airport community.
Q:What are your key learnings from the pilot scheme?
People may be resistant to change for a variety of reasons. Listening to and acknowledging their concerns is important in encouraging them to embrace change. Early proactive engagement with stakeholders helps them to understand how they may be impacted, alleviate their concerns and build trust. A series of face-to-face meetings and coaching sessions were organised to help us increase participation in the pilot scheme and drive the behavioural change needed to achieve our ultimate goals of waste reduction and enhanced recycling.