Carbon and Energy Management
While global and regional demand for air travel continues to grow, we work closely with the airport community to decouple our business growth from an increase in greenhouse gas emissions and strive to play a leadership role in contributing to a low-carbon aviation sector.
The 2015 Paris Agreement aims to strengthen the global response to the threat of climate change by keeping a global temperature rise this century well below 2 degrees Celsius above pre-industrial levels, and to pursue efforts to limit the temperature increase even further to 1.5 degrees Celsius.
The industry is committed to developing long-term goals and to taking ambitious actions consistent with the Paris Agreement.
HKIA Carbon Reduction Programme
Since 2008, the HKIA Carbon Reduction Programme has provided a platform for the airport community to measure, reduce and report carbon emissions and share best practices. In the past nine years, together with our airport business partners, we have made two pledges to reduce HKIA's airport-wide carbon emissions. Further details of the HKIA Carbon Reduction Programme, including the carbon reduction initiatives implemented by our airport business partners, are available at the HKIA Carbon Reduction Programme website.
First carbon reduction pledge (2010-2015)
AAHK and over 40 business partners
Carbon intensity1 reduced by 25.6% over 2008 levels, exceeding the target of 25%
Second carbon reduction pledge (2016-2020)
AAHK and 53 business partners
Committed to a further 10% reduction in carbon intensity1 over 2015 levels
Carbon intensity1 reduced by 8.7% in 2018 over 2015 levels.
1Carbon intensity refers to carbon emissions per workload unit, where it is defined as 1 passenger or 100 kg of cargo.
To encourage participation amongst our business partners, AAHK provides a proprietary web-based carbon data collection system. Airport business partners are expected to provide data from easily sourced information such as monthly electricity and fuel bills. The system is useful in providing them with a tool to calculate, analyse and report their annual carbon emissions. The cost of system development, training and auditing is funded by AAHK, making the programme free for business partners to join.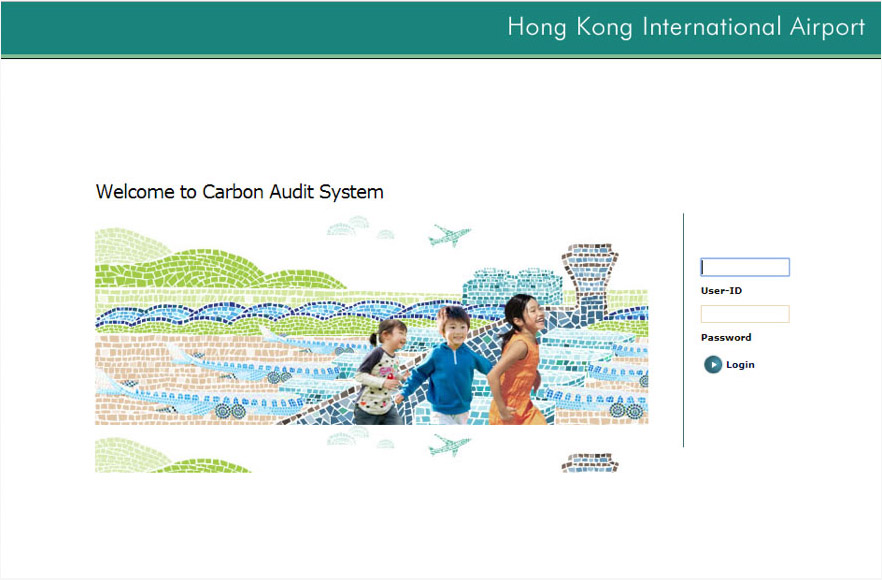 We also support our business partners in meeting our carbon reduction target through four support strategies:
| | |
| --- | --- |
| 1. Senior Executive Roundtable | Brings together senior executives of business partners for a high-level discussion on the business case for carbon reduction. |
| 2. Carbon Reduction Award | Recognises business partners' efforts in reducing carbon emissions and promotes best practices. |
| 3. Technical Working Group | Bi-annual technical training to business partners on carbon and energy saving solutions, such as solar panel implementation. |
| 4. Benchmarking Scheme | Encourages friendly competition between business partners in the same sector through comparison of their performance against sector average. |
In 2018, an 8.7% reduction in our airport-wide carbon intensity was achieved relative to 2015 levels – our baseline for the second carbon reduction pledge.
HKIA's airport-wide carbon emissions and intensity*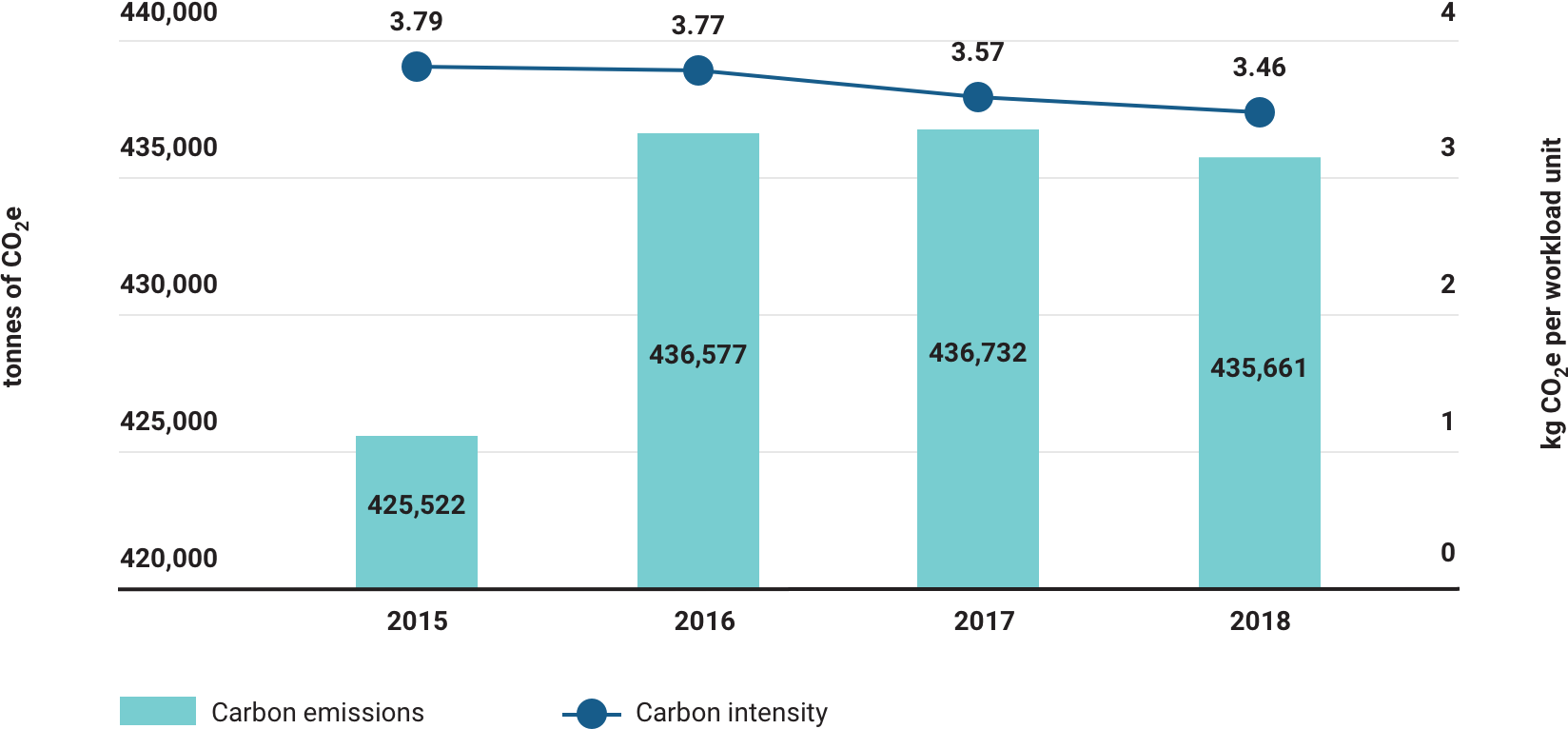 *Covers only the emissions from AAHK and the airport business partners participating in the HKIA Carbon Reduction Programme.
Electricity consumption
AAHK accounts for approximately 40% of HKIA's airport-wide carbon emissions. Electricity consumption is the major contributor, accounting for over 90% of AAHK's carbon emissions. In 2018/19, we recorded a year-on-year increase of 2.1% in absolute electricity consumption while the electricity intensity was maintained at a similar level compared with last year.
AAHK's electricity consumption and intensity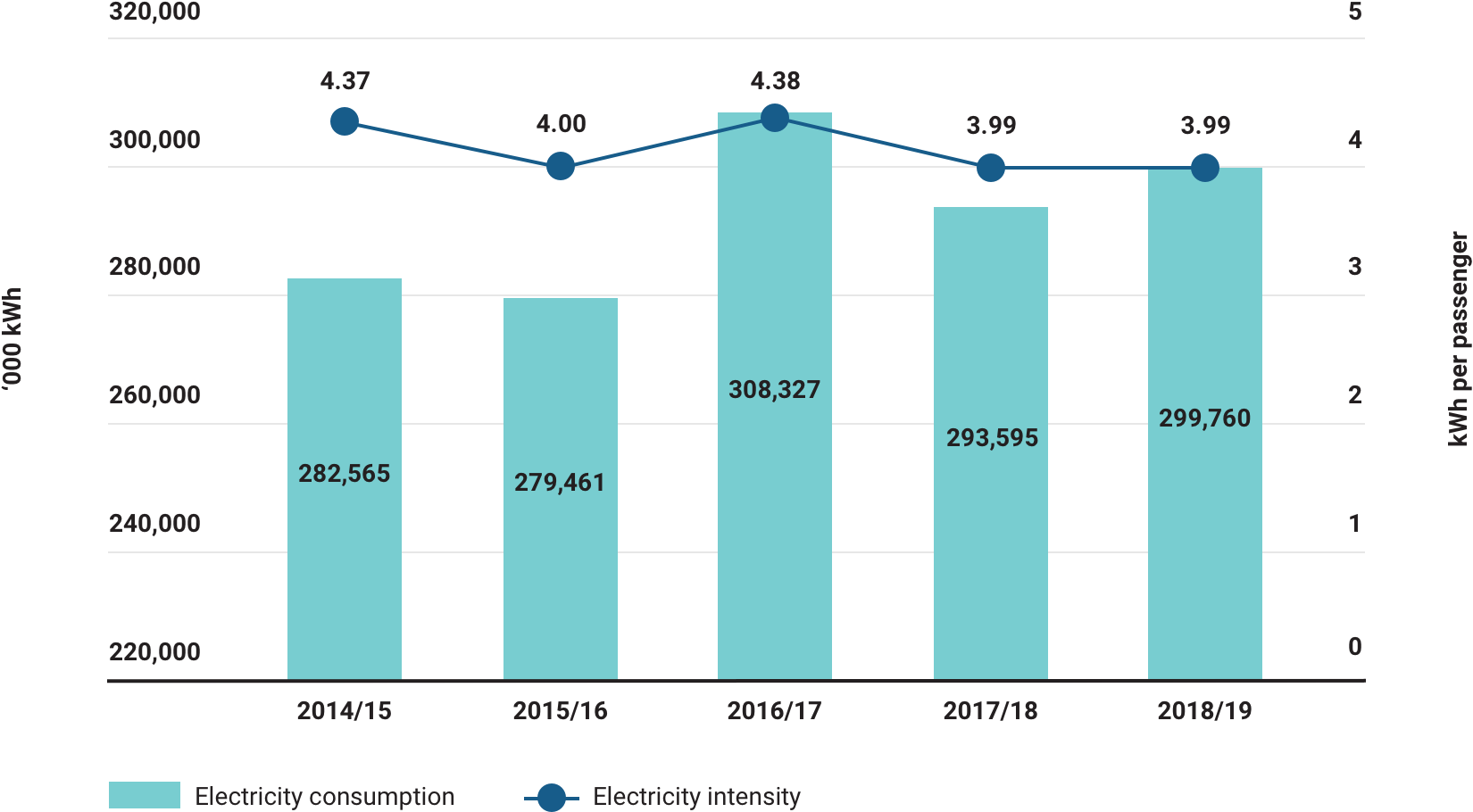 Key initiatives
Energy efficiency
Our ISO 50001 Energy Management System (EnMS) certification

covers T1 and the Midfield Concourse, and will expand to cover all terminal buildings by January 2020

.
We continue to drive further improvements in energy performance. Example projects include:
2017/18

Installation of a cloud-based building analytics system for the North Satellite Concourse was completed.

2018/19

Replacement of end-of-service-life LED lights in terminals with higher efficient model is in progress.
Modification of gantry lighting control from 3 stages to 9 stages in T1 was completed.

2019/20

Replacement of apron high mast lighting with LEDs to be completed.
Installation of cloud-based building analytics system for the Midfield Concourse and T1 to be completed.
Replacement of three low voltage chillers in Ground Transportation Centre with high energy efficient model to be completed.

2020/21

Replacement of two high voltage chillers in T1 with high energy efficient model to be completed.
Replacement of energy efficient pump sets and motors at Seawater Pump House No.5 to be completed.
Replacement of LED Street Lights for Landside Area to be completed.
Electric vehicles
Following the replacement of all airside saloon cars with electric models in July 2017, the second phase of airside vehicles electrification programme will begin implementation in 2019/20. This will require the replacement of all airside private vehicles with a gross weight of less than 3 tonnes with electric models by the end of 2022.
Following a trial on airside electric passenger buses, deliveries of our 40 electric airside buses will begin in 2019/20.
Over 230 units of electric ground services equipment (e-GSE) were introduced as part of the wider roll-out of HKIA's GSE Pooling Scheme.

To support the second phase of airside vehicles electrification programme and GSE Pooling Scheme, over 370 chargers for EV, E-bus and e-GSE will be installed in 2021/22. In addition, a

Smart-to-Charge System

will be installed on the airside to improve the charging efficiency.
Engagements & recognitions
The 3rd HKIA Carbon Management Senior Executive Roundtable Luncheon was held on 27 November 2018, with the attendance of senior management from 50 business partners. AAHK's CEO Fred Lam and Professor Christine Loh presented 24 awards to 13 business partners for their outstanding performance and innovative ideas in carbon reduction.
The 3rd Technical Working Group meeting was held on 28 August 2018. This facilitated an exchange of views and insights on solar power and promoted the wider adoption of this technology at HKIA.
AAHK plays an active role in advocating a response to the Paris Agreement to develop a global, long-term climate goal for the world's airports

through

ACI and Airport Carbon Accreditation programme.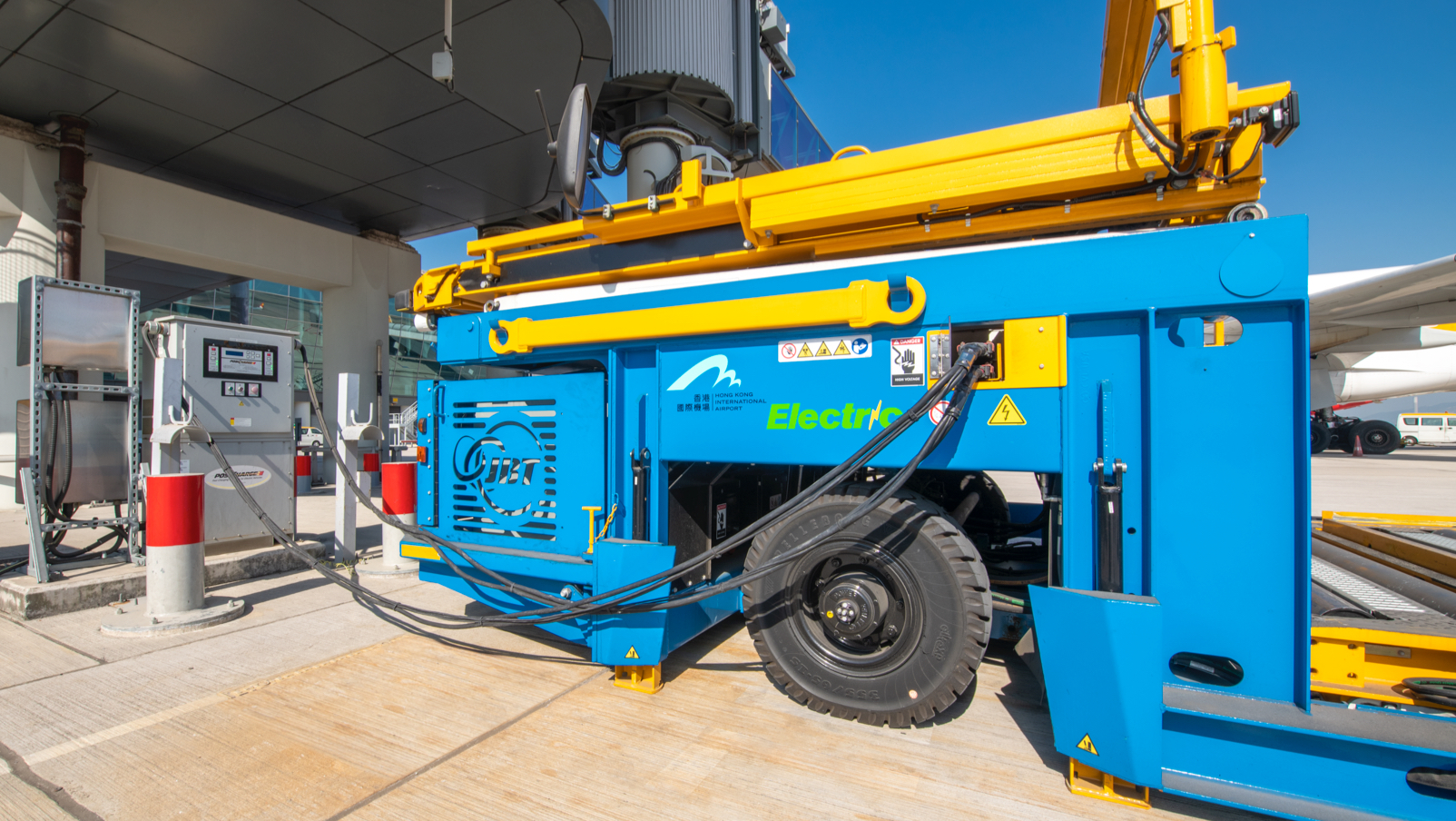 Over 230 units of e-GSE are deployed as part of the HKIA's GSE Pooling Scheme