Community Investment
HKIA contributes to the social development of the city by strategically investing in the development of people and skills for the aviation industry. Our flagship EXTRA MILE project was developed after identifying factors that would assist key groups in resolving issues that limit their ability to join the workforce.
AAHK's community investment vision:
"To contribute to the social and economic growth of Hong Kong, in particular Lantau and other neighbouring communities, by nurturing talent, realising the potential of individuals, and encouraging participation in aviation-related industries."
Launched in 2018, the EXTRA MILE project aims to create and promote shared value between the airport community and the wider community. It is a collaborative platform for AAHK, its airport business partners, non-governmental organisations (NGOs) and neighbouring communities that aims to develop and nurture talent, improve social mobility and contribute to the development of HKIA and the community.
The three programmes under the EXTRA MILE project, 'Working Holiday@Lantau', 'The Pioneer' and 'EduCare', focus on creating work opportunities at HKIA for working youth, non-Chinese speakers (NCS) in Hong Kong, and helping airport staff with children respectively.
In 2018/19, over 60 local youngsters and NCS were matched with jobs at HKIA. A further 100 students whose parents are working at HKIA received after-school care services. Nine additional airport business partners joined the project increasing the total to 24.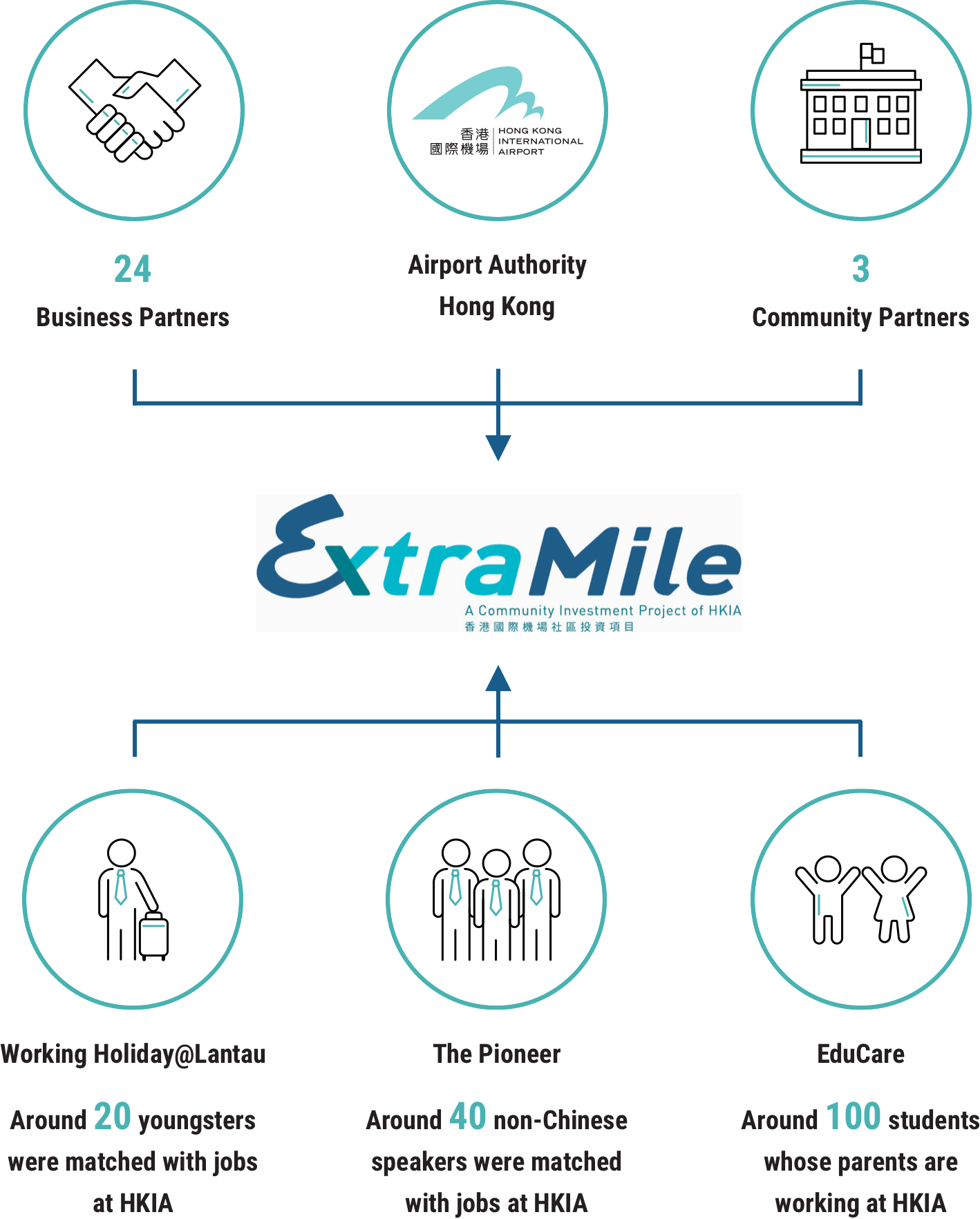 Q&A with Michelle Ngai, Loyalty Officer, Hong Kong SkyCity Marriott Hotel – A participant of Working Holiday@Lantau
Q:What attracted you to join the Working Holiday@Lantau programme? What do you aim to achieve after completion of this programme?
Having previously worked at HKIA as a ground staff, I am interested to explore other career opportunities in the aviation industry. My parents recommended me to join the Working Holiday@Lantau programme as it offers a variety of airport-based jobs. Through the programme, I am currently a Loyalty Officer at the Hong Kong SkyCity Marriott Hotel. The co-living component is another attractive element of the programme. Regrettably during my undergraduate studies, I lived at home and missed the experience of living on campus during my undergraduate years. I hope to make up for the lost opportunity and to build new friendships with my roommates and other participants of the programme in the coming year.
By participating in this programme, I hope I can break through my comfort zone propelling personal growth towards a better version of myself.
Q&A with Pavandeep Dhillon Kaur, Accounting Assistant, Asia Airfreight Terminal Company Limited – A participant of The Pioneer
Q:What do you see as the biggest value offered by The Pioneer programme to non-Chinese speakers?
The Pioneer opens up career opportunities at large corporations that often may not be accessible to non-Chinese speakers. As a person of Indian descent Sikh born-and-bred in Hong Kong, the opportunities are generally limited. I was worried about my future after working seven years as a clerk for a shipping company with few prospects for advancement.
Through the Pioneer programme, I am currently an Accounting Assistant at the Asia Airfreight Terminal Company Limited (AAT), an air cargo terminal at HKIA. As the first non-Chinese in the office, AAT provides an inclusive work environment that values the diversity of its staff making me feel truly a member of the team. I hope more companies in Hong Kong will hire non-Chinese speakers so that we can contribute to a growing and prosperous Hong Kong.
Q&A with Mrs Tsui, Forklift Driver, A&S (HK) Logistics Limited – A participant of EduCare
Q:How has the livelihood of your family been impacted by EduCare programme?
As a mother of two young children in primary school, the EduCare programme has allowed me pursue a full-time job as a forklift driver at A&S (HK) Logistics Limited with the peace of mind that my kids will be cared for after school. Moreover, the subsidised programme provides affordable after-school tutorial support to many of the working parents in the neighbourhood. Now I have more free time to prepare nutritious meals and plan for their extracurricular activities.