Careers at HKIA
Over 78,000 people work at HKIA. By 2030, with the opening of the Three-runway System, the number of direct jobs associated with HKIA is expected to increase to 123,0001.
Attracting and retaining a team of quality staff with diverse backgrounds and expertise is key to maintaining the smooth operation of HKIA. With the demand for labour, especially skilled workers, in Hong Kong exceeding the available labour force, we are continuing our efforts to secure sufficient workforce for HKIA's current operations and planned expansion through enhancing working conditions as well as attracting and nurturing talent.
Enhancing working conditions
210 daily bus trips between HKIA and other parts of Hong Kong were added or enhanced with midnight express services and adjusted schedules.
Enhanced fare concession scheme was introduced for airport community staff.
Additional staff amenities, including a second pre-school, a community centre, a multi-purpose sports hall and fitness centre, and staff canteen will be included in the

new complex under the

extension of Car Park 4.
Attracting and nurturing talent
The seventh annual HKIA Career Expo was held in June 2018, with over 4,500 positions offered by more than 50 companies across the airport community.
We regularly organise talks and visits to the airport for students from secondary schools and higher education institutes. In 2018/19, we hosted more than 100 airport visits and briefings for over 3,100 students.
An eight-week summer internship programme was offered to

over 110

students

from universities and

vocational education

institutions

.
In 2018/19, the Hong Kong International Aviation Academy (HKIAA) delivered over 1,200 courses to over 40,000 participants.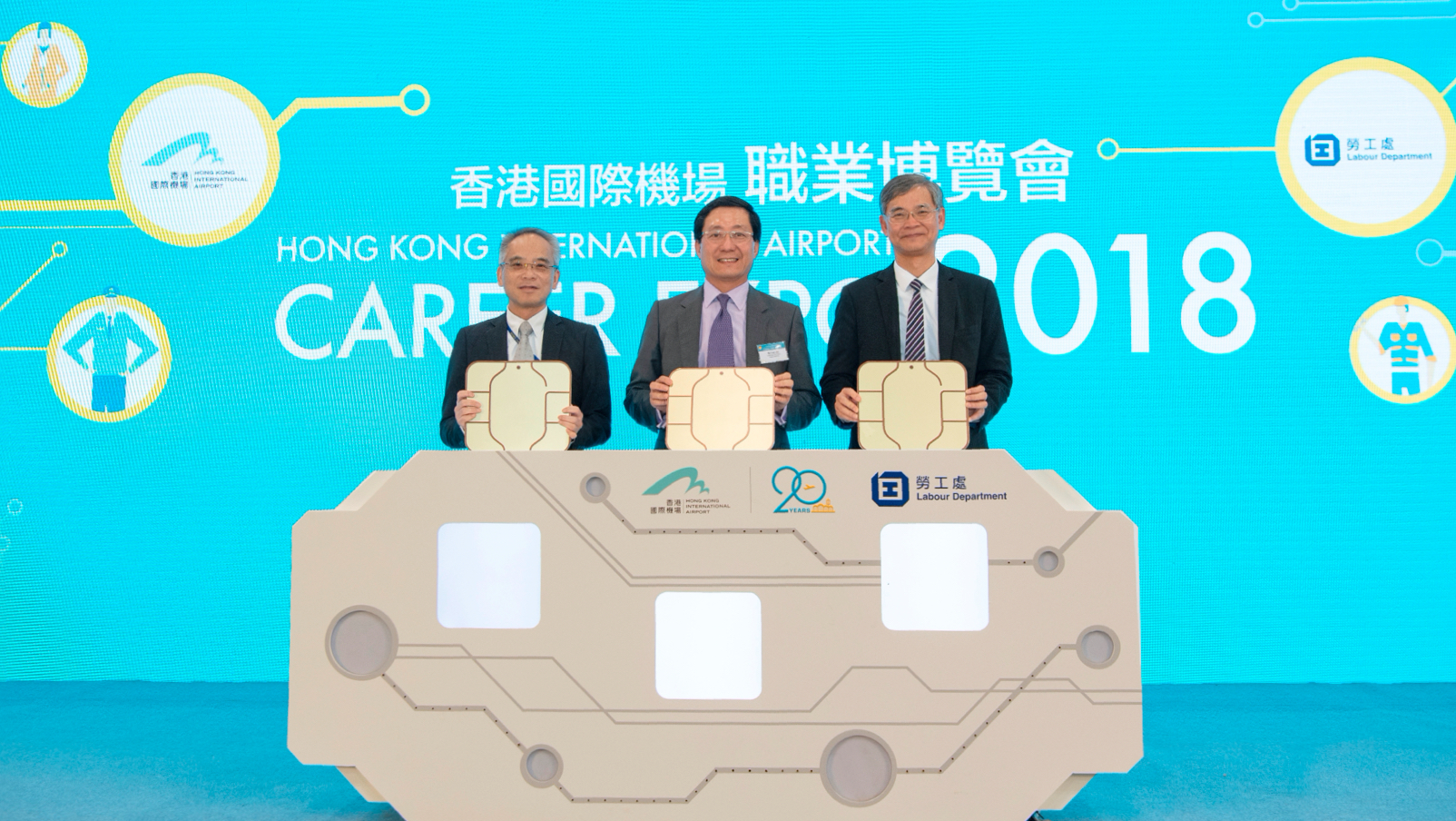 Q&A with Ray Li, Airport Duty Manager
Q:Please introduce yourself – including your current role and years of service at HKIA.
Since joining AAHK in 2005, I have been rotated to various operational departments to learn about terminal, landside and airside operations at HKIA. Currently, I am the Airport Duty Manager of the Integrated Airport Centre (IAC). As the 'nerve centre' of HKIA, the IAC has different teams to monitor and manage all aspects of real-time airport operations around the clock. Whenever there is an airport incident, my duty is to fix it before it turns into an airport disaster. I work closely with all duty teams and Aviation Security Company Limited, as well as external parties such as Government departments, airlines, ground service handlers, cargo operators, airport catering outlets and public transportation operators.
Q:Please tell us about the academic course you were enrolled in and your interest in this area.
Advancing my education with a master's degree has long been a personal goal. I was thrilled to be sponsored by AAHK to take the Advanced Master in Air Transport Management jointly developed by the Hong Kong International Aviation Academy and École Nationale de l'Aviation Civile (National School of Civil Aviation of France). The programme presented an opportunity to broaden my horizons across other aspects of aviation, including airport management, airline operation, aircraft leasing, ground handling and security. Apart from the knowledge I learned from this course, I have also built up my personal network with classmates from different aviation fields in Hong Kong and other Asian countries.
Q:What are your career aspirations in the aviation industry?
As the future of airports is intrinsically tied to technology, I am fascinated by the vast potential of smart airport development, especially how technology can assist in airport disruption management. My thesis for the programme focused on the application of artificial intelligence and big data technologies to current airport disruption management practices. IoT devices, such as high definition cameras, smart meters and sensors, could supplement the human eye and ear, giving us better visibility of the real-time situation across the airport. Actionable preventative measures generated from data analytics would identify potential defects or disruptions that could not normally be seen by the human eye. I am looking for a way to transfer my operational experience and airport management expertise to a managerial position leading the integration of technology and crisis handling to optimise airport operation management.
Q:How has the HKIAA helped you move closer to this goal?
HKIAA provided a global perspective with students from eight different regions in aviation-related industries represented in the programme. I benefited tremendously from immersing myself in class discussions and presentations, such as aviation rights and policy topics, with this highly diverse class. This helped me to break down silos and adopt a holistic approach to airport management. Giving me the ability to see the bigger picture is key to success in addressing current challenges and advancing toward my goals for future success.