Expanding Capacity and Functionality
HKIA continued to grow for the fiscal year ended 31 March 2019. We achieved record passenger numbers and flight movements handling 75.1 million passengers and 428,870 movements. HKIA remained the world's busiest cargo airport for the ninth consecutive year, processing 5.06 million tonnes of cargo and airmail.
To meet future demand and leverage the opportunities presented by the Greater Bay Area (GBA), our Airport City vision aims to integrate HKIA's core passenger and cargo services with commercial developments and multi-modal connectivity by road, rail and ferry, and to increase the airport's capacity to capture new opportunities in tourism and business through a series of development projects.
Some of these projects increase airport capacity through new facilities and infrastructure such as the Three-runway System (3RS), while others increase the handling capacity of existing facilities through adopting enhanced technology and process engineering. In addition, SKYCITY , AsiaWorld-Expo and topside development of the Hong Kong Boundary Crossing Facility (HKBCF), are other core components of the Airport City that will add to the airport's overall capacity and broaden its functionality.
2RS enhancements
i. Facility expansion
Midfield Apron Development – The remaining phase of the Midfield Apron Development will increase the number of aircraft parking stands from 182 to 215 by 2020.
Terminal 1 (T1) Enhancement – AAHK is investing HK$7 billion into a series of major enhancement projects, which are expected to be completed in phases starting in late 2019, to increase handling capacity, reduce travelling time within the terminal and provide a vibrant fresh look and feel. These include the construction of the T1 Annex Building and Sky Bridge, and expansion of Car Park 4 building and T1 East Hall.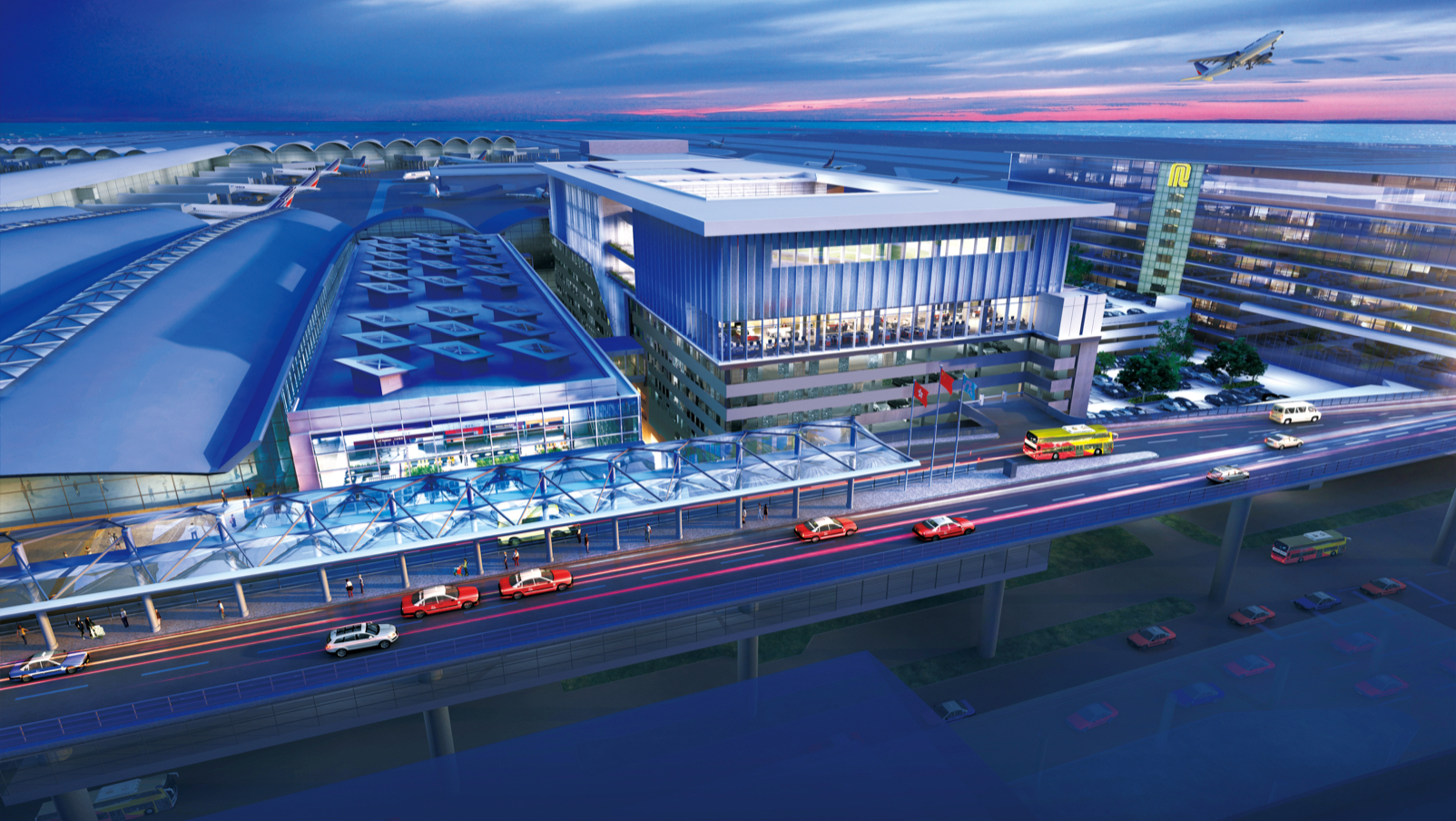 ii. Initiatives to enhance operational efficiency
Augmented Airfield Services System (AS2)

– AS2 has been augmented with 'Internet of Things' (

IoT

) technology

to

provide

real-time

operations visibility with AI-enabled analytics

to the airport community. This

cloud-based

dashboard provides a

t-a-glance views of

aircraft turnaround performance by comparing flight arrival estimates and empirical

IoT

data from equipment on the apron.

Compatibility with map applications allows users to

visualise

aircraft

and equipment on the apron in real-time.

The system enables HKIA

to better manage aircraft turnaround

,

baggage handling and catering

on a single platform, which is especially important when a rapid response is required.

Automatic Air Bridge Docking and Retracting

– We began testing a system that automates most of the air bridge docking and retracting process. The automated system is expected to eliminate possible operator error and speed up the arrivals process. Airport-wide roll-out will be subject to additional feasibility tests to be conducted in 2019/20.

Automated Storeroom

–

A robotic system retrieves spare parts for airport systems and facilities from AAHK's maintenance storeroom. This increases the efficiency of our maintenance operations.

Utilising

a mobile app, our staff can request spare parts and a facial recognition system validates their identity before the parts are released.

Ground Services Equipment (GSE) Pooling Scheme

– The GSE Pooling Scheme was first launched at the Midfield Apron in July 2018, and expanded to the North Satellite Concourse and the remote bays at the West Apron in January 2019. AAHK has purchased a fleet of over 250 units of GSE, of which 95% are electric-powered.
Q&A with Daniel Jiao, Manager, Civil
Q:How was the idea of 'automated airfield pavement detection system' conceived and developed?
My team spends considerable time and effort to conduct visual inspection of HKIA's airfield pavements, which includes runways and taxiways, in order to meet the regulatory requirements and ensure safe airfield operations. This was a manual and time-consuming process that could only be carried out during the short window between sunrise and the end of the night-time maintenance period.
In 2017, we began trialling various innovative solutions to enhance the efficiency of our maintenance programmes, for example, mounting high-resolution cameras on a vehicle and a drone, to reduce the amount of time needed to inspect the runways.
Q:What is the detection system made up of?
The automated airfield pavement detection system consists of a specially-designed pod housing a laser crack measurement system (LCMS), which is mounted at the tail of a light commercial van. The core components of the LCMS are two laser line projectors and two high-speed cameras capable of taking high resolution 3D and 2D images. Other components installed on the vehicle include a distance measuring instrument and a global positioning system device for providing geolocation data.
Q:How does the detection system improve the runway maintenance process?
Since the introduction of LCMS, we have been able to significantly enhance our productivity by inspecting the full length of each 3,800-metre runway within six hours. The new system is able to operate both during the day and at night in all lighting conditions. By utilising digital image analysis technology, high-resolution digital images taken during the inspection are automatically analysed for signs of potential problems such as cracks, potholes and ruts. Once a problem has been identified, we are able to plan repair works accordingly. The repair crews can easily locate the distressed area as the images have geo-location data embedded.
Q:What were the major challenges encountered during the development of the detection system? How did you and your team overcome them?
When we started the project, the first challenge was identifying the right partner in the development of the system. As this is the first system developed for routine airfield inspection, there was not a particular company or airport with experience in this particular area. We engaged with several potential suppliers to assess their capabilities and subsequently selected a supplier with solid airfield experience.
Now that the system is up and running, we are fine-tuning the digital image analysis programme by incorporating our maintenance experience to enhance the system's automatic detection capabilities.
Q:What were you most proud of for this project?
HKIA is the first airport to successfully develop in-house technology enabling automatic detection of airfield pavement distresses. This system is part of our growing number of smart maintenance initiatives which include the automated foreign object debris detection system and the automated airfield ground lighting scanning and inspection system. I am proud to be leading a professional team in developing the automated airfield pavement detection system at HKIA.
Developing the 3RS
The 3RS project has made significant progress over the past three years. Details are available at our dedicated 3RS website. Major achievements in 2018/19 include:
i. Project implementation
More than 90% of the deep cement mixing works including all in the critical reclamation areas and under the sea wall areas were completed and handed over to the main reclamation contractor.
Two new 5.2km aviation fuel pipelines connecting the Aviation Fuel Receiving Facility at Sha Chau with HKIA entered service in June 2018. This is the world's longest pipeline installation using the environmentally friendly horizontal directional drilling method.
The structure of the APM depot was completed ahead of schedule followed by the commencement of fitting-out works.
Construction for the high-speed Baggage Handling System for the 3RS is ongoing.
Continued implementation of a comprehensive environmental monitoring and audit programme in accordance with the requirements set out in the 3RS Environmental Impact Assessment Report and Environmental Permit (EP). A dedicated website has been set up for reporting the environmental monitoring and audit data and other relevant information about the 3RS project.
ii. Stakeholder engagement
More than 200 events, including briefings, seminars and airport tours were conducted in

2018/19

to engage the wider community.
Community Liaison Groups
Islands,

Kwai

Tsing,

Shatin

, Tsuen Wan and

Tuen

Mun

districts.

130 members

including

district

councillors

and community leaders (as of

July 2019

).

Two rounds of meetings were held in

2018/19

covering the latest progress of the 3RS project and related environmental issues

.
Professional Liaison Group
20 experts in different environmental fields (as of October 2018).
Facilitate communications and enquiries on all environmental issues related to the 3RS.
Two meetings were conducted in 2018/19 covering the latest progress of the 3RS project and the Marine Ecology and Fisheries Enhancement Strategy.
SKYCITY
SKYCITY is an integral part of our Airport City and one of the largest commercial developments in Hong Kong. Strategically located at the junction of the Hong Kong-Zhuhai-Macao Bridge and Tuen Mun-Chek Lap Kok Link adjacent to HKIA, it aims to capture broad opportunities in tourism and business as the first point of arrival in Hong Kong for visitors from the western GBA. The 25-hectare integrated retail, dining, entertainment and commercial development will provide a full array of retail, food and beverage and entertainment facilities along with hotels and offices. With the Phase 1 Developments scheduled to be completed by 2027, SKYCITY is expected to become a signature destination for local residents and visitors from the GBA and overseas.
The SKYCITY Phase 1 Developments will be a new 1,200 room hotel, which is currently being developed by the Regal Hotels Group, together with a 350,000 m2 commercial complex comprising retail, dining and entertainment (RDE) facilities. Roxy Limited, a wholly-owned subsidiary of New World Development Limited, was awarded the right to develop and manage the RDE complex. Future phases of SKYCITY will be developed progressively. Upon completion, SKYCITY will complement nearby developments and tourist attractions, such as AsiaWorld-Expo, Hong Kong Disneyland, Ngong Ping 360 and the Big Buddha.
SKYCITY at a glance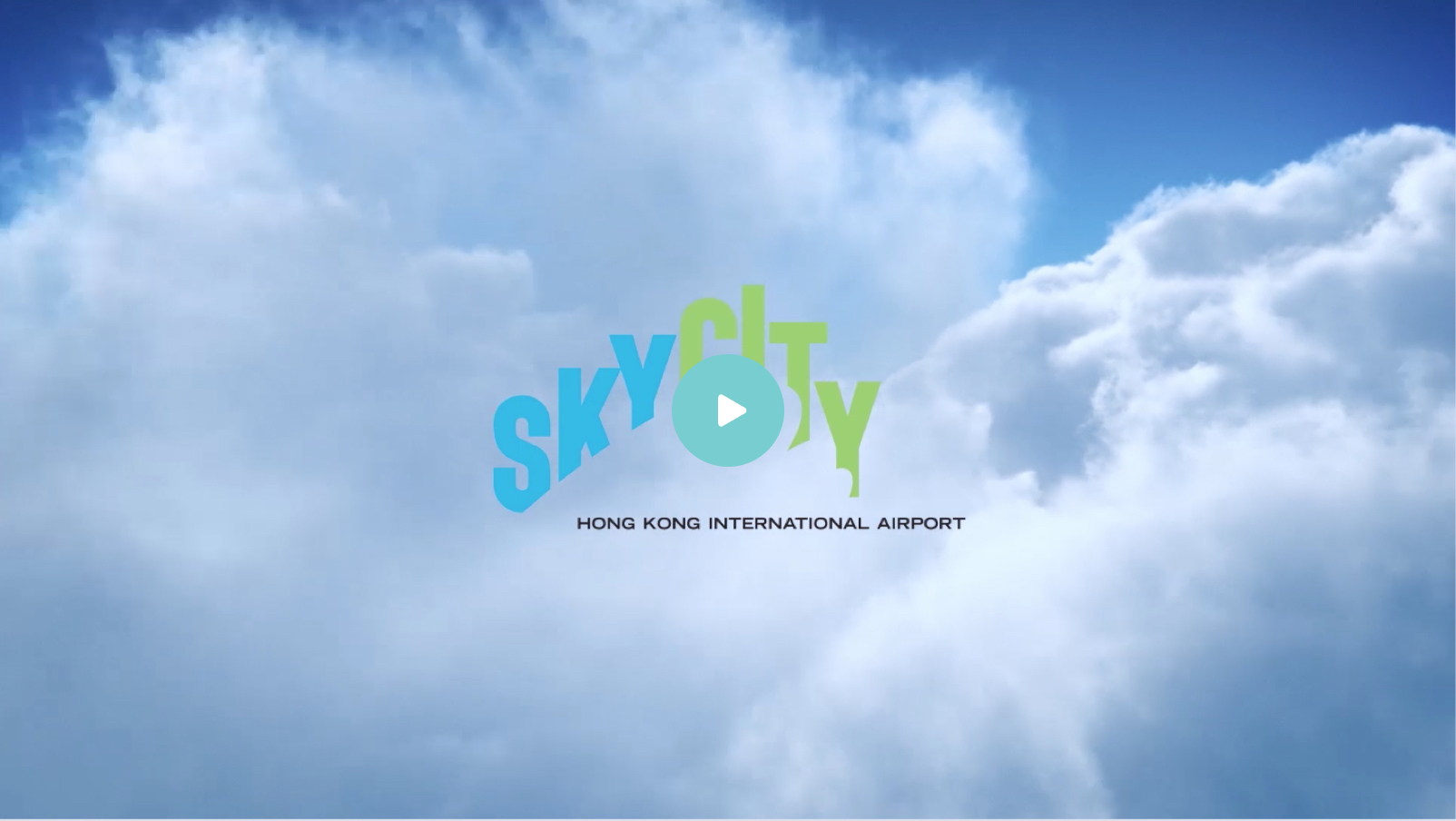 | | | |
| --- | --- | --- |
| | Phase 1 Hotel Development | Phase 1 RDE Development |
| Site information | Total Permissible Gross Floor Area: 33,700 m2 | Maximum Gross Floor Area: 350,000 m2 |
| Contract award date | February 2017 | May 2018 |
| Target completion date | 2020-2021 | 2022-2027 |
AsiaWorld-Expo (AWE)
Opened in 2005, AWE is a 70,000 m2 exhibition and convention centre on the airport island adjacent to SKYCITY. AAHK acquired AsiaWorld-Expo Management Limited, the operator of AWE, to better coordinate land use planning for the future phases of SKYCITY and AWE's upcoming phase 2 and maximise the business potential of both developments. More importantly, the acquisition enables AAHK to swiftly take forward the plan in transforming HKIA from a city airport into an Airport City. The transformation, which involves increasing capacity and functionality, is aimed to strengthen HKIA's status as an international aviation hub, thereby driving economic growth on the airport island and contributing to the wider economy of Hong Kong.
Topside development at the Hong Kong Boundary Crossing Facilities (HKBCF)
The HKBCF Island is a 150-hectare artificial island to the east of the airport island. It was created to provide clearance facilities for passengers and vehicles using the HZMB, but also has additional development potential which could be purposed to further enhance HKIA's competitiveness. The Hong Kong SAR Government has invited AAHK to conduct a land use study on airport-related developments on the Island, taking into consideration the needs of HKIA, the government and other developments in the vicinity.