Safety and Security
Ensuring the safety of our passengers, staff and airport operations is always our first priority in the aviation sector. AAHK operates an airport-wide safety management system which provides a robust framework of safety processes. We work closely with our employees and airport business partners to cultivate a 'safety-first' culture. We are also applying new preventive technologies to further strengthen the safety of HKIA.
HKIA achieved a record low injury rate of 2.78 injuries per million passengers in 2018/19 through the continuous collaboration of the airport community and our ongoing initiatives.
Airport Composite Safety Index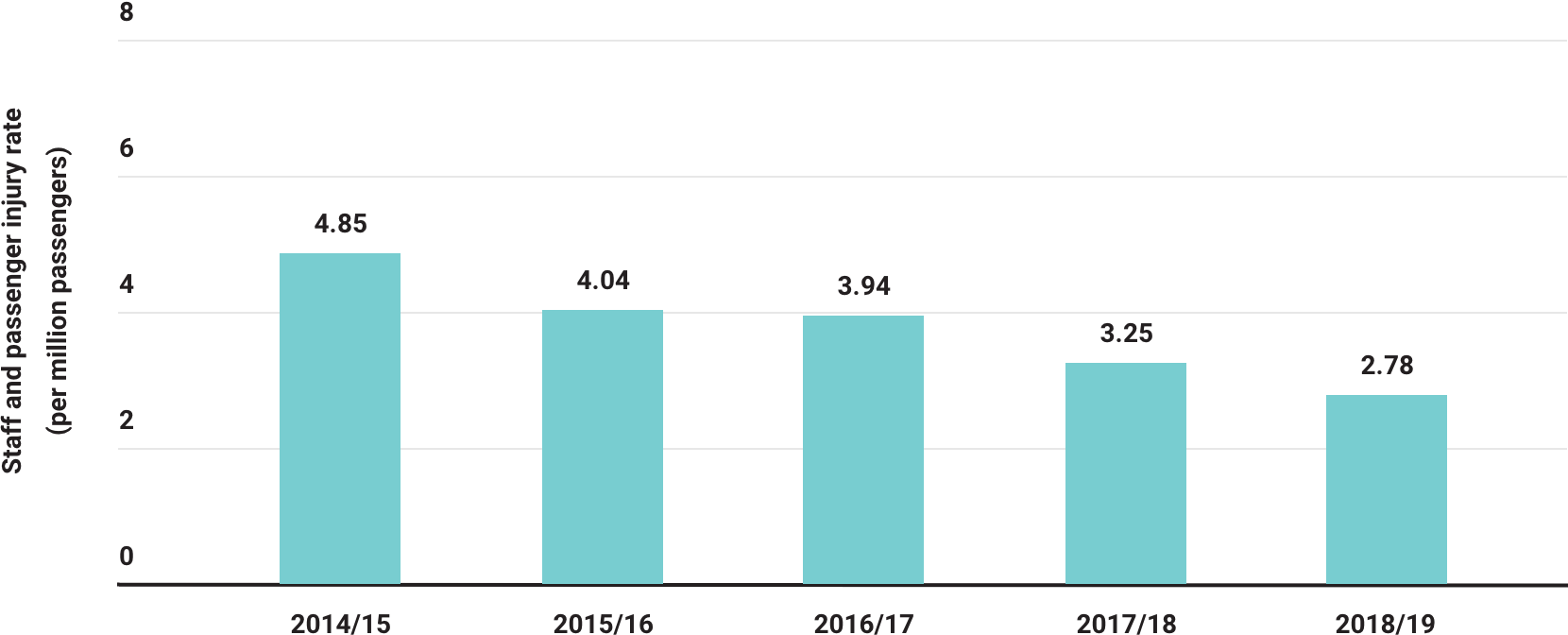 Key initiatives
AAHK
employees
A corporate-wide safety campaign was organised, covering topics such as office safety, work stress sources and use of protective equipment.
Airport community
The 2018/19 Airport Safety Recognition Scheme introduced the HKIA Safety Excellence Award to recognise organisations for outstanding achievement in safety. The inaugural Gold Award was presented to one of our ramp handling operators, Hong Kong Airport Services Limited, which has reduced work injuries related to manual handling and lifting by over 40%.
The year-round Airfield and Baggage Hall Safety Campaign 2018 aims to enhance the safety awareness of staff working on the ramp and in the baggage hall. A monthly safety roadshow and briefings were conducted to brief frontline staff on a variety of safety related topics.
Passengers
A passenger safety campaign featuring safety mascots, games and talks to promote passenger safety ran between October and December 2018.
Following the deployment of equipment specifically designed to detect liquid explosives, all transfer passengers may carry more than the industry standard of 100 millilitres of liquids, aerosols and gels (LAGs) in tamper-evident bags in their hand baggage.
New safety promotional materials, including six new videos, banners and posters, were introduced to communicate the safe use of airport facilities to passengers.