Sustainable Workforce for HKIA
Over 73,000 people work at HKIA. By 2030, the number of direct jobs associated with HKIA is expected to increase to 123,0001.
Attracting and retaining high quality staff is key to maintaining the smooth operation of HKIA. However, the demand for labour, especially skilled workers, in Hong Kong exceeds the available labour force. We are continuing our efforts to secure sufficient labour for HKIA's current operations and planned expansion through enhancing working conditions, and attracting and nurturing talent.
Enhancing working conditions
6 bus routes between HKIA and other parts of Hong Kong were added or enhanced with midnight express services and adjusted schedules.
Enhanced fare concession scheme was introduced for airport community staff.
We introduced a mobile drinking water supply truck in the apron area to provide better access to drinking water for ramp staff.
Additional staff amenities, including a community centre, a multi-purpose sports hall and fitness centre, and staff canteen will be included in the future extension of Car Park 4.
Attracting and nurturing talent
Key initiatives
The sixth HKIA Career Expo was held in June 2017, with over 4,000 positions offered by more than 40 aviation-related companies.
We regularly organise talks and visits to the airport for students from secondary schools and higher education institutes. In 2017/18, we hosted 120 airport visits and briefings for about 4,100 students.
An eight-week summer internship programme was offered to undergraduates and students on vocational education.
The Hong Kong International Aviation Academy (HKIAA) delivered over 100 courses to over 5,500 students and provided more than 60 training courses to some 23,000 airport staff.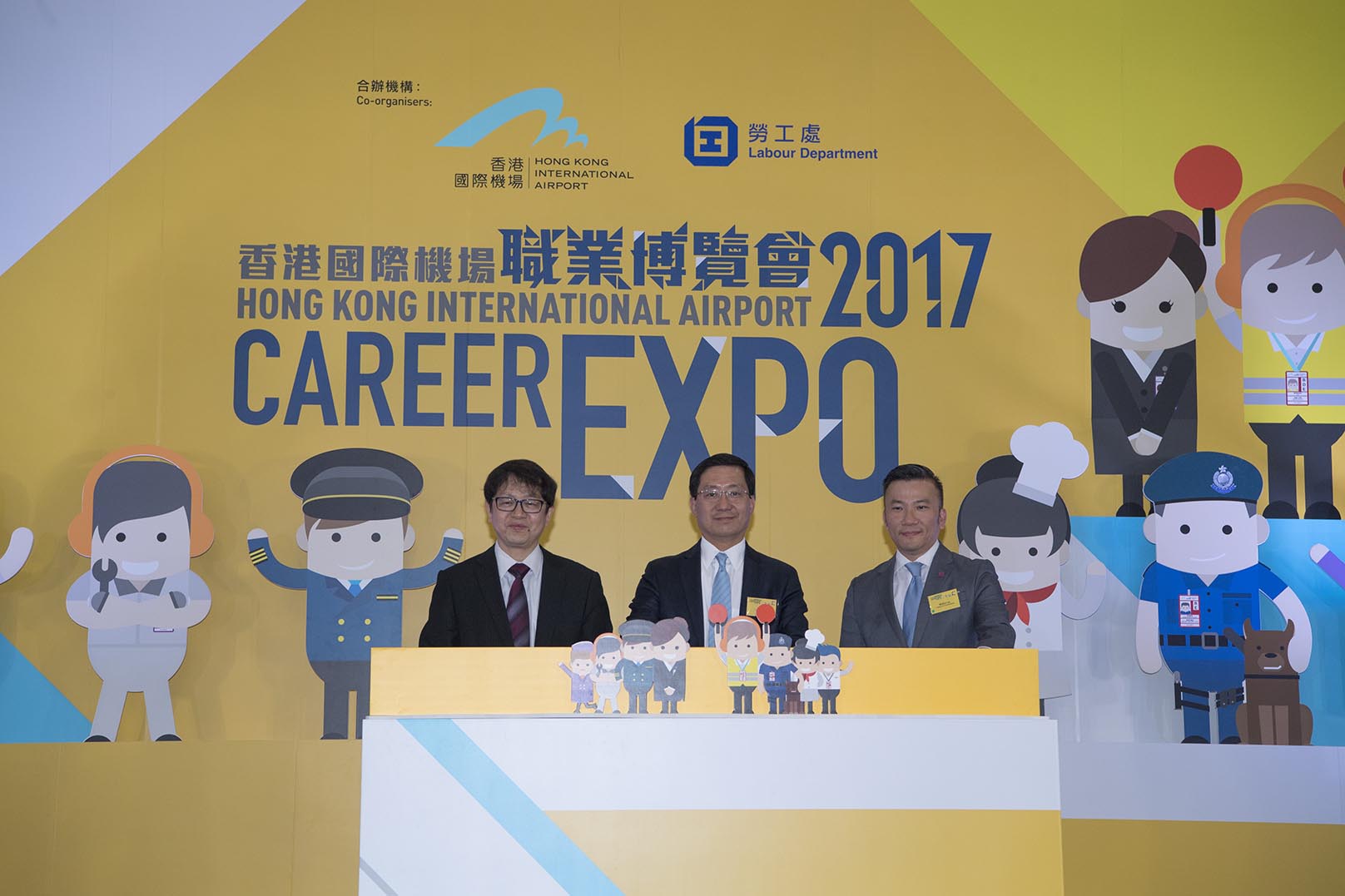 Q&A with Taurus Wong, Instructor & Course Design Manager
Can you tell us about the HKIAA?
"The HKIAA was established by AAHK in response to the 2016 Policy Address. The Chief Executive at the time called for Hong Kong's development into a regional aviation training hub. Since then, we have started to work alongside local and overseas education bodies, vocational training institutions, industry practitioners and other organisations to offer joint programmes, such as summer day camps, placement programmes, professional certificate courses and an advanced master's degree programme."
Why is it important to attract and nurture talent for HKIA?
"The development of HKIA into the Three-runway System steaming ahead will make a bigger airport handling 100 million passengers and 9 million tonnes of cargo annually by 2030. This will create an additional 50,000 direct jobs [from existing 73,000 to 123,000 by 2030] at HKIA covering different fields of the industry. Since Hong Kong enjoys near full employment, it is getting more difficult to attract people to work at the airport. Hence, the HKIAA was established to enable AAHK to offer current and prospective airport staff with a variety of aviation courses to attract more people to aviation and equip them with the essential skills to build a rewarding career at HKIA."
How is the response so far – from both aviation industry and participants' perspectives?
"The response has been overwhelming. Our business partners recognise that people are critical to their continued success. Hence, the creation of the HKIAA to build future talent for the airport community goes hand in hand with their future development. In our first academic year, we delivered over 100 courses to 5,500 students along with more than 60 training courses to 23,000 airport staff."
What is your proudest achievement at this role?
"Establishing the HKIAA and becoming a TRAINAIR PLUS Associate Member within one year is an impressive achievement! This is an International Civil Aviation Organisation (ICAO) recognition of the HKIAA as a training institute that has established high standards for training development, capacity building, and instructional delivery. This significantly enhances Hong Kong's reputation as a regional civil aviation training hub and further strengthens the city's status as an international aviation centre."
You have been working in a variety roles at the airport for over 20 years. What are you most fond of from working here over the years?
"I have always felt a close connection to the airport and the people working here. Prior to joining the HKIAA in 2017, I worked at both of Hong Kong's airports – the former Kai Tak International Airport and the current one at Chek Lap Kok – for over 25 years. I started as a ramp coordinator and passenger service agent in 1991 and worked my way up at the same ground handling agent before leaving in 2015 as the manager of three teams. There are many fond memories of working together as a team to deal with many of the day-to-day challenges at the airport. After a brief stint teaching at a local university, I returned to the airport.
There is something magical about the airport that draws you here. For many, this is the start of a long-awaited holiday. To me, the limitless career opportunities available if you're willing to learn and work hard. It's also about the friendships that have developed over the years with my past and present colleagues as well as students. This is what makes the airport special and the place to be."