Airport Lightning Warning System Ensures Apron Safety
(Hong Kong, 26 July 2006) - Committed to upholding the highest standard of safety, Hong Kong International Airport (HKIA) is one of the few airports in the world which has introduced an Airport Lightning Warning System (ALWS) to minimise the potential threat of lightning strikes to ensure the safety of its passengers and airport staff. HKIA has recently produced a new video and leaflet to explain to the passengers the condition that lightning warning is issued and the subsequent impacts on airport operations.
Connected to local electric field mills and the CLP Power Hong Kong Limited's detection radar, the System has multiple functions in tracking the passage of thunderstorm, registering the locations of lightning strikes and measuring the atmospheric conditions at the airport.
The System consists of two lightning warning classes: Amber and Red. An Amber Lightning Warning, which does not affect aircraft operations, is issued when the System detects lightning strikes within 7km of the airport and airport staff should stop non-essential activities in open areas.
A Red Lightning Warning is issued when a lightning strike is detected at the airport or the threat of a lightning strike is very high. When the Red Lightning Warning is activated, all ramp activities including baggage handling, aircraft refueling and inflight meal handling will stop immediately while airport staff and passengers are advised to stay inside sheltered areas such as aircraft and the passenger terminal. The waiting time for passenger embarkation and disembarkation as well as baggage reclaim may be prolonged. Normal ramp activities will resume when the Red Lightning Warning is lowered.
Airport Authority General Manager, Airfield, Mr C K Ng, said, "Safety is always our top priority. HKIA has maintained a zero lightning-related injuries since the implementation of the Airport Lightning Warning System in 2003." In 2004, ALWS won the Occupational Safety and Health Council's Champion Award in Safety Technological Achievement.
Airport Authority General Manager, Terminal, Mr Eric Wong, said, "As summer in Hong Kong is a thunderstorm and rainy season, more lightning warnings can be expected. In the interest of safety, interruption to operation is unavoidable. However, HKIA and the service providers at the airport do our best to minimise the inconvenience to the passengers in such events."
Mr Eric Wong added that for better passenger flow management, HKIA will mobilise a passenger care team to deploy additional duty staff to provide further assistance to passengers when necessary, including distributing water, light food and blankets. Regular drills are being conducted to test and continually improve the passenger handling process.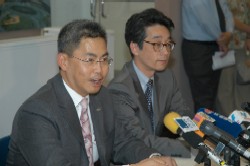 Airport Authority General Manager, Terminal, Mr Eric Wong (left) says AA works closely with airlines to enable passengers to reclaim their baggage speedily once Red Lightning Warning is lowered.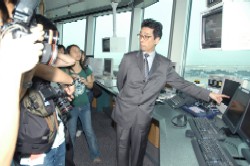 Airport Authority General Manager, Airfield, Mr C K Ng explains how ALWS helps ensure the safety of passengers and airport staff during lightning strikes.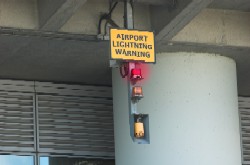 Signal light installed on apron to alert staff of the possibility of lightning strikes at the airport.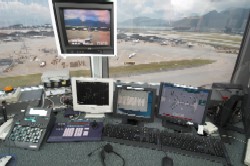 The sophisticated Airport Lightning Warning System gives out advance lightning warning to ensure the safety of passengers and airport staff.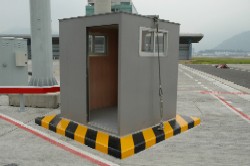 Lightning shelters have been built at the airport to provide reliable protection for apron staff during lighting strikes.