HKIA Named the World's Best Among Airports Serving Over 40 Million Annual Passengers
(HONG KONG, 14 May 2010) – The Airports Council International (ACI) has named Hong Kong International Airport (HKIA) World's Best Airport among facilities serving 40 million-plus passengers a year for the fourth consecutive year. Airport Authority Chief Executive Officer Stanley Hui Hon-chung received the award on behalf of HKIA during the presentation ceremony held yesterday in Sanya, Hainan.
HKIA also took the third place in both regional (Asia-Pacific) and overall categories. Mr Hui expressed his gratitude to the travelling public for their continuous support of HKIA. He also dedicated the honour to the 60,000-strong airport community. "We couldn't have achieved this without the concerted effort of all the staff in the airport community who provide passengers with the best possible service," he said. "It is gratifying to see that our overall score in the Airport Service Quality (ASQ) survey has been constantly on the rise over the past few years."
In the 2009 ASQ survey, HKIA achieved a record high of 4.76 out of 5.00, meaning more than 98% of the survey respondents rated the airport as excellent or very good. Key areas that were particularly commended by passengers included terminal cleanliness, airport ambience, free internet connection, availability and cleanliness of washrooms, and comfort of gates and waiting areas.
Mr Hui pledged that HKIA will continue improving its service and facilities even further to better serve passengers and other airport users.
The ASQ survey, which interviewed over 275,000 passengers at 118 airports in 2009, is a leading industry benchmarking programme that allows airports to measure their improvements and benchmark their customer service year on year. Passengers are interviewed at each airport participating in the ASQ programme to indicate their levels of satisfaction over 30 service parameters including airport ambience, staff courtesy, immigration and check-in efficiency, security and more. The awards are determined based on the cumulative results of the four quarters.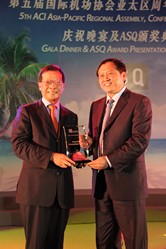 Airport Authority Chief Executive Officer Stanley Hui Hon-chung receives the World's Best Airport Award (by size of airport – over 40 million passengers) from Shao Daojie, Deputy Director General, Department of Airport, Civil Aviation Administration of China.