Airport Authority Names New Executive Director, Finance
(HONG KONG, 30 April 2010) – Airport Authority Hong Kong (AA) announced today the appointment of William Lo Chi-chung as Executive Director, Finance, with effect from July 2010. Reporting to the AA's Chief Executive Officer Stanley Hui Hon-chung, Mr Lo will be a key member of the senior management team. He will succeed Raymond Lai Wing-chueng, who will retire at the end of May after serving the AA for nearly 14 years.
Commenting on the appointment, the Chief Executive Officer of the Airport Authority, Stanley Hui Hon-chung, said, "I would like to thank Mr Lai for his invaluable contributions to the Airport Authority. Under his leadership, the financial operations of the AA are managed prudently and professionally, which has enabled the organisation to weather the ups and downs of the economy throughout the years. Mr Lai has also contributed significantly to our cooperation projects with the Mainland airports."
Mr Hui also welcomed Mr Lo, saying, "Mr Lo is a seasoned accountant with more than 25 years of wide-ranging experience in auditing, accounting, finance management and control, and corporate treasury. I am confident that Mr Lo's rich experience in, and deep knowledge of, accounting and finance will be an important asset for the AA."
Mr Lo will be responsible for the formulation and execution of the AA's accounting and financial policies with a view to ensuring that the AA runs according to prudent commercial principles and best industry practices.
An MBA graduate from Warwick University in the United Kingdom, Mr Lo is currently Group Senior Director (Finance and Administration) at Vitasoy International Holdings Limited. Prior to that, he served at K Wah Group, Group Sense (International) Ltd, Siemens Limited and Deloitte. He is a Fellow of the Hong Kong Institute of Certified Public Accountants and the Association of Chartered Certified Accountants.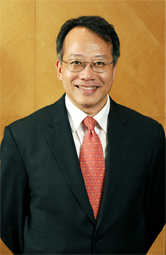 AA appoints William Lo Chi-chung as Executive Director, Finance.