Service Excellence Hailed at Hong Kong International Airport
 (HONG KONG, 28 April 2010) – A little help might earn a big smile ... or even save a life. With over 130,000 passengers a day, Hong Kong International Airport (HKIA) has been the scene of many heart-warming deeds showing the dedication and excellent service of the airport's staff—many of which were recognised at the HKIA Customer Service Excellence Programme Award (CSEP) Presentation 2009/10, held today to honour airport staff who went the extra mile to better serve passengers.
In one story, a passenger heading overseas for a heart operation last December left her bag containing her medication at an airport bookstore. The bookseller who found the bag, Hugo Li, called a number she found inside it, which was diverted to the passenger's mother. Li was informed that the woman's daughter must take the medication every four hours. After a frantic 40-minute, gate-to-gate search for the passenger, Li finally found her and returned the bag.
Another award recipient was Ricky Mak, a passenger services supervisor at Jardine Airport Services Limited who last October helped three worried passengers recover two company laptops containing important data. Thinking quickly, Ricky immediately rescheduled the passengers to a later flight and began calling different parties, from the airport's lost and found to every single taxi company in Hong Kong. After two hours of searching and numerous phone conversations, the computers were finally returned by the taxi driver who drove the passengers to the airport.
In another case, Katie Lai, Hsien Hsu and Tommy Lam from EVA Air and Hong Kong Airport Services Limited received a request in last July to bring a wheelchair and blankets for a female passenger, but upon arrival they saw that she was pale and shivering. Judging by their experience, the team strongly advised the passenger to seek medical consultation and reassured her that they would secure a seat on the next flight. Two months later, the passenger came back to HKIA and told the team that her doctor in Taipei said she was unfit for travel without proper medical care and that they had potentially saved her life.
Such stories demonstrate the commitment to service excellence shared among the airport's 60,000 staff, said Stanley Hui Hon-chung, Chief Executive Officer of the Airport Authority Hong Kong, as he extended his heartfelt congratulations to the recipients.
"However good our hardware facilities are, we rely on the staff working in different areas at the airport, be it airlines, ground handling agents, shops or restaurants etc to provide passengers with the best airport experience. These awardees today have set good examples for us all – not only did they perform their duties diligently, but they kept themselves alert to passengers who may be in need."
Officiating at today's ceremony, James Tien, Chairman of the Hong Kong Tourism Board, thanked the awardees for their effort in creating a lasting impression of Hong Kong among visitors. "Our airport represents visitors' first encounter with our city, its culture and hospitality.  Last year, we welcomed 29.6 million visitor arrivals, with almost one-third arrived by air.  This year, we expect our total arrivals will further increase to more than 30 million.  We earnestly hope that all staff members of the airport will continue their good work to exceed visitors' expectations with their enthusiasm and quality service."
A total of 115 airport staff received the CSEP award this year. Apart from three individual and three team awards, three corporate awards were also given out to Cathay Pacific, MTR Corporation and Maxim's Group for their ongoing outstanding service over the past year.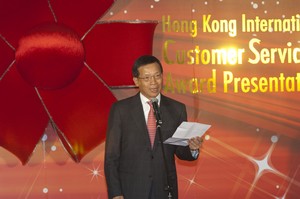 Airport Authority Chief Executive Officer Stanley Hui Hon-chung says however good its hardware facilities are, the airport relies on the airport's 60,000 staff to provide passengers with the best airport experience.
Tourism Board Chairman James Tien thanks the CSEP awardees for their effort in creating a lasting impression of Hong Kong among visitors.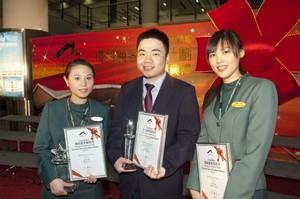 Mr Hui presents a team award to Eva Air and Hong Kong Airport Services Ltd.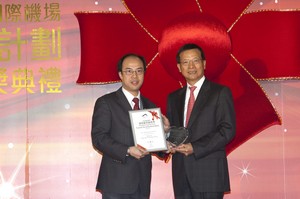 Individual award winner Ricky Mak helped passengers to recover two company laptops with important data last October.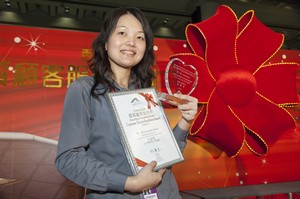 Another individual award winner, Hugo Li, managed to return a bag with medicines to a passenger with heart problem after a frantic 40-minute, gate-to-gate search.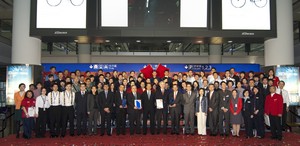 A group photo of Mr Hui and Mr Tien with all the awardees.