Hong Kong International Airport Conducts Large-scale Multi-scenario Typhoon Exercise
(HONG KONG, 16 April 2010) – In preparation for the coming typhoon season, Hong Kong International Airport (HKIA) staged a comprehensive annual exercise involving more than 500 participants from about 20 organisations and government departments early this morning. The exercise simulated various weather-related contingent scenarios to test the airport's response capability in crowd management, baggage handling, flight rescheduling, information dissemination and more.
CK Ng, Deputy Director, Airport Operations, Airport Authority Hong Kong, said, "Inclement weather is a common concern among airports around the world. While flights would inevitably be disrupted by bad weather conditions, we can minimise the impact by thoroughly preparing the airport community for such situations. For this reason, out of the 90-plus seminars, drills and exercises we conduct each year, 15 of them are related to weather.
"Through these drills, we can also continuously improve cooperation and communication among Airport Authority (AA), airlines, ground handling agents, government organisations and other business partners. We believe this is essential not only for maintaining a safe and secure airport, but also for sustaining HKIA's world-renowned, high-quality passenger services," Mr Ng added.
The multi-scenario exercise began at 0001 hrs this morning when the airport community was informed of the approach of a typhoon. The Airport Emergency Centre (AEC) was activated to help coordinate flight changes by airlines as well as coordinate contingency plans of airlines, ramp handlers, transport operators, catering outlets, retail shops and other potentially affected businesses. A preliminary assessment of the number of potentially affected flights and bags was also made to facilitate early planning of resources and logistics for post-typhoon baggage handling arrangements.
As the situation further deteriorated within the exercise scenario, more flights were affected, as were the number of passengers and baggage. At 0100 hrs, the Hong Kong Observatory issued a No.8 typhoon signal and the AEC continued to act as a centralised communication platform and control centre to oversee and coordinate contingency actions. In the meantime, airlines also actively reallocated their flight resources while the AA and Civil Aviation Department worked closely with them to coordinate the revised scheduling.
At the passenger terminals, the AA, Police, airport security staff, airlines and ground handling agents jointly activated their crowd management contingency plans to provide assistance to passengers and maintain order in the airport. Moreover, designated areas were set up for passengers to queue for check-in or wait for their flights. Additional signage and broadcasts were also arranged throughout the terminals, while two teams of St. John first-aiders stationed in both restricted and non-restricted area to offer prompt help to passengers in case of medical emergency.
The exercise stood down at 0330 hrs. Active participants in the drill included:
- Airport Authority Hong Kong
- Airline Operators Committee
- Aviation Security Company Ltd
- Cathay Pacific Airways
- Civil Aviation Department – Air Traffic Management Division
- China Airlines
- Hong Kong Air Cargo Terminals Limited
- Hong Kong Airport Services Limited
- Hong Kong Observatory
- Hong Kong Police (Airport District)
- Japan Airlines
- Jardine Air Terminal Services
- Jardine Airport Services Limited
- MTR Corporation – AEL
- SATS HK Limited
- St. John Ambulance
- UPS
- Worldwide Flight Services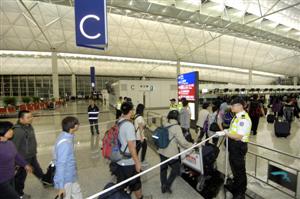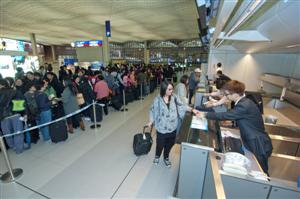 Designated queuing areas are set up to facilitate passenger flow and maintain terminal order during the drill.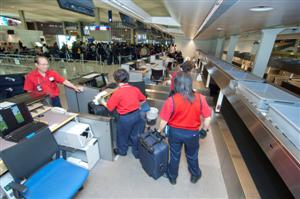 As the weather further deteriorates within the exercise scenario, more staff are deployed to handle the increasing amount of check-in bags.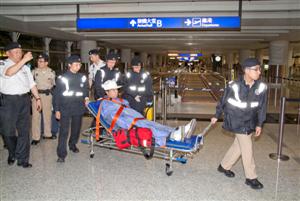 St. John first-aiders also participate in the exercise and provide prompt medical care to a simulated passenger who suddenly feels unwell.