HKIA, SZIA Jointly Launch Hong Kong-Shenzhen Airports Link
(HONG KONG, 8 October 2008) – Hong Kong International Airport (HKIA) and Shenzhen International Airport (SZIA) jointly launched the Hong Kong-Shenzhen Airports Link, a service that enables passengers at HKIA or SZIA to check in and obtain boarding passes for connecting flights at either airport. The service was successfully soft-launched in August 2008.
As part of the service, passengers who have checked in at HKIA or SZIA can relax in designated waiting lounges for cross-boundary coaches to take them to their connecting flights at the counterpart airport every 30 minutes.   Lounges are equipped with flight information displays showing the latest flight information. 
Stanley Hui Hon-chung, Chief Executive Officer of Airport Authority Hong Kong, thanked the Hong Kong and Shenzhen governments for their support, saying, "This strategic collaboration combines the complementary strengths of HKIA's comprehensive international network with SZIA's extensive domestic coverage. It also provides a more frequent, comfortable and convenient land transportation service for passengers travelling between the two airports."
Huang Chuanqi, Chairman of Shenzhen Airport, said, "Thanks to the support of the governments of Shenzhen and Hong Kong, the Hong Kong-Shenzhen Airports Link strengthens the road connection and hence creates a sea-land transportation network between the two airports. Putting their strengths together, the Link is a measure to achieve a win-win situation to both airports. In the future, SZIA and HKIA will continue to work closely together and look for ways we can further integrate to form one of the largest international airport systems in China, which would in turn become an important gateway for overseas travellers going in and out of the Mainland." 
Of the first batch of 13 airlines participating in Hong Kong-Shenzhen Airports Link, four are operating at HKIA and nine at SZIA:
Airlines operating at HKIA:
1.  HX Hong Kong Airlines
2.  UO Hong Kong Express Airways
3.  CI China Airlines
4.  AE Mandarin Airlines
Airlines operating at SZIA:
1.  CA Air China
2.  MU China Eastern Airlines
3.  FM Shanghai Airlines
4.  MF Xiamen Airlines
5.  SC Shandong Airlines
6.  HU Hainan Airlines
7.  3U Sichuan Airlines
8.  8C Eaststar Airlines
9.  EU United Eagle Airlines
Passengers flying with the participating airlines can enjoy the new service and complete their check-in procedures before taking cross-boundary coaches to the counterpart airports.  More airlines are anticipated to join the service soon. 
HKIA strives to deepen the cooperation with SZIA by fully utlilising the competitive advantages of both airports.  This May, the Hong Kong and Shenzhen airports signed a framework agreement on passenger facilitation, building a foundation for further cooperation in the future. Other initiatives include SkyPier, which offers cross-boundary ferries between HKIA and SZIA. The two governments are also studying the construction of an airport rail link to connect the two airports. It is believed that the proposed rail link would enhance both passenger and cargo flows between the two airports and create economic benefits for Hong Kong and the region as a whole.
Passengers interested in the new Hong Kong-Shenzhen Airports Link can call the Hong Kong-Shenzhen Airports Link Enquiry Hotline:
 Hong Kong International Airport at (852) 2261-2623
 Shenzhen International Airport at (86) 755-2750-4045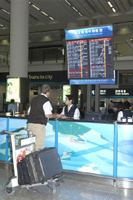 Passengers going to SZIA for connecting flights may now check in and obtain their boarding passes at HKIA.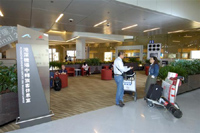 Passengers having completed the check-in process can wait at the designated waiting lounge in Terminal 2 for their cross-boundary coach to SZIA.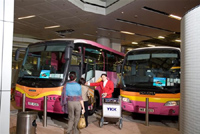 Cross-boundary coach to and from SZIA departs at 30-minute intervals.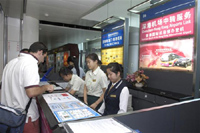 A designated counter has been set up at SZIA to provide convenient advance check-in service for passengers taking transit flights in Hong Kong.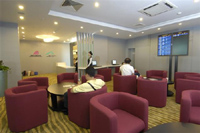 The well-equipped transit passenger lounge at SZIA.