HKIA Boosts Baggage Handling Efficiency with RFID Technology
(HONG KONG, 15 January 2008) - As part of its ongoing commitment to enhancing operational efficiency and customer service, Hong Kong International Airport (HKIA) today announced that all of its check-in counters can now print integrated radio frequency identification (RFID) baggage tags. The new tags, which combine an embedded RFID chip with a barcode, are replacing barcode-only baggage tags on an airline-by-airline basis.
The new tags offer many benefits. Unlike barcode-only tags, which require the scanner to be in close proximity to the tag, RFID tags can be read from a distance and at an angle. RFID tags can be read more quickly, contain more data and are more reliable, with read-rates of 97% versus an average of 80% for the barcode-only tags.
Check-in counters in Terminal 1 and Terminal 2, in-town check-in desks in Kowloon Station and Hong Kong Station of Airport Express, upstream check-in facilities in the Pearl River Delta, and all of HKIA's baggage handling and sorting systems now employ the new technology. About 40,000 bags, 90% of all departing bags, from around 50 airlines use the new baggage tags each day.
Henry Ma, Airport Authority Hong Kong's General Manager of Terminal Business, said he was pleased with the project's progress. "We've seen significant performance improvements, and we believe there will be further efficiency and reliability gains when the rollout is completed later this year," said Mr Ma.
As one of the first airlines to implement the new baggage tags in Hong Kong, Cathay Pacific Airways is pleased with the benefits that RFID has brought to the airline and its passengers.
Victor Ho, General Manager HKIA, Cathay Pacific Airways, said: "Cathay Pacific operates more flights and carries more passengers than any other airlines operating at HKIA and it is crucial to our operation and our service delivery standards to have the most efficient baggage system possible."
HKIA is one of the first airports to begin introducing RFID technology, which it operates in parallel with a barcode-based system. A total of HK$50 million has been initially invested for the infrastructure. Operating around the clock and managing an average of 110,000 pieces of luggage for departing, arriving and transfer passengers each day, HKIA's baggage handling system is among the most sophisticated in the industry.
While individual airlines are responsible for their passengers' baggage, the Airport Authority provides advanced, efficient technology and a reliable service platform for airlines to manage the baggage handling process.
The International Air Transport Association (IATA) has endorsed RFID-based baggage handling as a way of simplifying airport procedures. The IATA predicts that worldwide implementation of RFID-based baggage handling could result in annual savings of US$760 million for the industry, and several international airports are now implementing RFID technology in their baggage handling systems.

Facts of HKIA Integrated RFID Baggage Tags
What is RFID?
Radio frequency identification (RFID) is an automatic identification technology that stores and remotely retrieves data from electronic tags using radio waves. RFID chips can store substantially more data than barcodes and can be read from a distance.
RFID technology is widely used by manufacturers, retailers, logistics companies and governments to manage, secure and track items. In Hong Kong, the Octopus stored value card and the Autotoll electronic toll collection system are examples of RFID technology.
Benefits of Introducing RFID Technology for Baggage Handling System:
Improve bag tag read rate

Improve BHS operational efficiency and capacity
Initial Investment of RFID Project
HK$ 50 million (infrastructure and computer system)
Rollout of integrated RFID baggage tag
Rollout progress
About 50 airlines are currently using the integrated RFID baggage tags. These airlines include Cathay Pacific, Dragonair, Air China, China Airlines, China Eastern, China Southern, Hong Kong Airlines, Hong Kong Express Airways, Thai Airways, Northwest Airlines and United Airlines, etc.
Read rate for Barcode and integrated RFID baggage tags at HKIA
| | | |
| --- | --- | --- |
| | Barcode-only Baggage Tag | Integrated RFID Baggage Tag |
| Read Rate | 80% in average | 97% |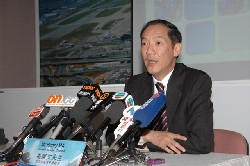 Henry Ma, AA's General Manager of Terminal Business, says AA has invested HK$50 million for the implementation of the RFID technology.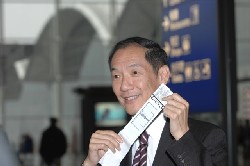 Mr Ma says with a read-rate of 97% against an average of 80% for the barcode-only tags, RFID tags enhance HKIA's baggage handling efficiency.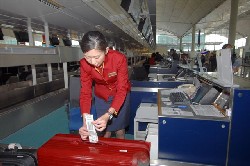 About 90% of all departing bags from around 50 airlines use the new baggage tags each day.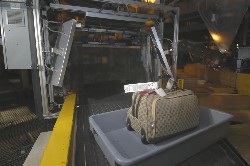 RFID Reader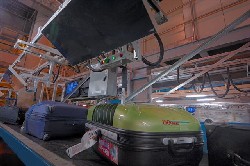 RFID Lateral Reader