New Ferry Service Starts Between HKIA and Zhuhai Jiuzhou
(HONG KONG, 10 July 2007) - To further enhance connectivity between Hong Kong International Airport (HKIA) and the Pearl River Delta (PRD), a new ferry service between the airport and Zhuhai was launched today. Sailing between HKIA's SkyPier and the port of Jiuzhou, the new service increases the number of PRD destinations served by SkyPier to six.
Initially, two roundtrip sailings carrying up to 1,300 passengers will depart Jiuzhou at 0930 and 1530 and leave HKIA at 1115 and 1700 each day. The frequency of the 50-minute service is scheduled to grow to three roundtrip sailings per day by August and four per day by January 2008.
Airport Authority Hong Kong Chief Executive Officer Stanley Hui said, "The latest addition to our SkyPier service not only strengthens HKIA's role as a multi-modal aviation hub and the transport link between HKIA and the PRD, but also helps expand HKIA's catchment area to the 52 million population of the Greater PRD region."
"I'd like to thank the Guangdong and Zhuhai governments - including the Port Administration Office of Guangdong Province, Zhuhai Entry-Exit Port Bureau, Zhuhai's customs and excise authorities and the Zhuhai Jiuzhou Port Administration Group Co., for their assistance in launching this service. Another major partnership between Zhuhai and HKIA since the Zhuhai Airport joint venture was formed last year, the ferry link is beneficial to both Zhuhai and Hong Kong."
Over 70 ferry services operate each day between HKIA's SkyPier and Macau, Zhongshan, Humen, and Shekou and Fuyong ports in Shenzhen. Moreover, HKIA introduced the world's first upstream check-in service, between HKIA and Shekou, in 2005.
Mr Hui added, "On 15 June, we began a trial of our upstream check-in service in Macau. Passengers leaving from Macau can now obtain a boarding pass and check their baggage for flights departing from HKIA. Arrangements for setting up the upstream check-in service at Jiuzhou are now being discussed and we hope to provide passengers with this convenient service in the near future."
A permanent SkyPier is being built and is scheduled to open in early 2009. Eight times larger than its predecessor, the new pier will be connected to HKIA's passenger terminals by the automated people mover. Launched in September 2003, SkyPier has served more than 4.5 million travellers with passenger volume reaching 1.7 million in 2006, and 950,000 in the first six months of 2007.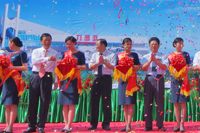 AA CEO Mr Stanley Hui (second from left), Zhuhai Mayor Mr Zhong Shi-jian (fourth from left) and Party Committee Secretary Mr Deng Wei-long (second from right) officiate at the ferry launch ceremony at Jiuzhou Port.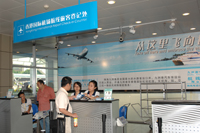 Starting today, passengers heading to HKIA for onward flights can set off their journey from Jiuzhou Port for ferries which take them to HKIA's SkyPier.