Airport Staff Praised for Outstanding Customer Service
 (HONG KONG, 14 May 2013) - Demonstrating firm commitment to a world-class customer experience at Hong Kong International Airport (HKIA), 110 staff members from across the airport community were commended with certificates for outstanding performance during the annual HKIA Customer Service Excellence Programme (CSEP) award presentation ceremony. Trophies were also presented to six individuals, three teams and four companies, whose excellent service won the hearts of not only the recipients but the judging panel.
In one instance, Windy Chiu from Hong Kong Tourism Board (HKTB) touched people's heart with her caring deed. One day in November 2012, Windy greeted a French couple in the HKTB's visitor centre at HKIA. The couple could not speak, and enquired about the details of the Lion Dance Championship in Hong Kong with pen and paper. Worrying that the couple may encounter difficulties in purchasing the event tickets, Windy bought the tickets herself and sent them to the couple's hotel anonymously. The couple was touched by Windy's surprising gift, and wrote to HKTB to express their heartfelt gratitude.
In another case, Vicky Li, Ella Fan and Lemon Su from China Merchant Shekou Ferry Terminal performed a particularly heartwarming act. Last Chinese National Day, a lady passenger who was 29 weeks pregnant became distressed when she was told that a medical certificate was required for her to board her flight. Vicky and Ella comforted the passenger and informed her of how to quickly obtain the certificate from a nearby hospital, while Lemon helped her store her luggage. Although the woman returned with the certificate, her flight had already departed as she was unable to catch the ferry to HKIA on time. Vicky and Ella then took the initiative to liaise with the airline for a flight change and arranged a more convenient aisle seat for her 10-hour flight to Australia.
At the ceremony, Stanley Hui Hon-chung, Chief Executive Officer of Airport Authority Hong Kong, congratulated and thanked the awardees. "This year marks HKIA's 15th anniversary, and every year we aim to go above and beyond the call of duty to ensure the best possible experience for our growing number of travellers," Mr Hui said. "Our 65,000 airport staff is committed to providing top-notch customer service and helping HKIA maintain its status as one of the world's best and busiest passenger airports, and some go a step further to enrich the passenger journey. These are the stories that were recognised today."
Officiating in the ceremony, Dr Peter Lam, Chairman of HKTB, said, "HKIA is at the heart of our tourism industry. In fact, it is an important point of contact between our visitors and our city. The fact that HKIA receives one accolade after another – with its being one of the busiest airports in the world – is a testament to the excellence of the airport team, including the frontline staff who has to take care of the needs of different visitors. I hope by maintaining high service standards, we can together turn more visitors to frequent visitors and therefore bringing in greater economic benefits to our city."
Along with the CSEP awards, Customer Satisfaction Awards were announced for the second time for airlines and passenger handling agents who demonstrated commitment to customer satisfaction and quality service.
Since its launch in 2002, the CSEP awards have served to reinforce an airport-wide commitment to customer service excellence at HKIA. Various campaigns and seminars are also organised throughout the year to promote customer service skills among airport community members and help them deliver a pleasant airport experience to passengers.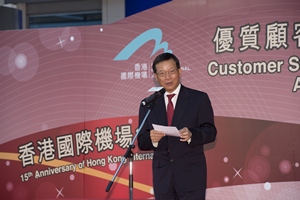 Stanley Hui, Chief Executive Officer, Airport Authority Hong Kong says the 65,000 airport staff is committed to providing top-notch customer service and helping HKIA maintain its status as one of the world's best and busiest passenger airports.
Dr Peter Lam, Hong Kong Tourism Board Chairman, hopes HKIA staff to maintain high service standards to turn more visitors to frequent visitors, therefore bring in greater economic benefits to Hong Kong.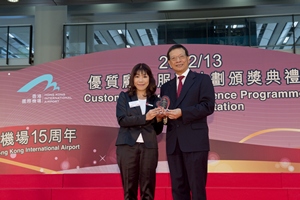 Individual award winner Windy Chiu touches hearts of the judging panel by her caring deed of purchasing the Lion Dance Championship tickets for a couple who cannot speak.
Vicky Li of China Merchant Shekou Ferry Terminal receives the team award for her and her colleagues' heartwarming act to a pregnant passenger.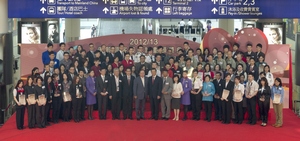 A group photo of Mr Hui and Dr Lam with all the awardees.