"Summer Blow 2013" Prepares Airport for Coming Typhoon Season
(HONG KONG, 19 April 2013)  –  Hong Kong International Airport (HKIA) earlier today successfully held an exercise named "Summer Blow 2013". This exercise is the culmination of the HKIA weather preparedness programme, consisting of a series of drills and learning seminars carried out ahead of the coming typhoon season. Over 250 participants from more than 20 organisations, including business partners and government departments, took part in "Summer Blow 2013" in order to exercise the airport's coordinated disruption preparedness and response capabilities.
C K Ng, Executive Director, Airport Operations, Airport Authority Hong Kong (AAHK), said, "It is important for AAHK and the whole airport community to be ready for inclement weather, especially in light of the Hong Kong Observatory (HKO) anticipation of up to four to seven tropical storms this year. By drilling multi-party responses amongst HKIA stakeholders, we can be better prepared to manage and minimise potential disruptions to passengers.
"HKIA is dedicated to providing world-class passenger service. Running the exercise offers opportunities for airlines, ground handling agents, cargo terminal operators, ramp operators, supporting Government agencies and other relevant airport organisations to familiarise themselves with, and jointly practise, the cooperative procedures in dealing with such an incident."
The exercise began at around midnight when HKO informed that Typhoon "Mako" was approaching and standby signal number 1 was in force. Various parties including AAHK, police, airlines, MTR and ground handling agents activated their disruption plans. Upon the issue of strong wind signal number 3 by HKO, the Airport Emergency Centre (AEC) was activated to coordinate and manage the potential disruptions. The AEC also acted to coordinate flight schedules, manage passenger flow, and oversee contingency plans for transport and catering outlets, retail shops and other affected businesses. The Flight Information Display System (FIDS) was updated to show the latest information on the typhoon and its impact on flights. A special baggage handling arrangement was also put in place to transfer misconnected bags to a designated area.
The exercise progressed with Typhoon "Mako" worsening, necessitating HKO to issue gale or storm signal number 8. AAHK, the airlines and the Civil Aviation Department worked closely together on revising the flight schedules. FIDS was updated continuously to keep passengers informed. AAHK duty staff distributed bottled water and blankets to those in need, while St. John Ambulance first-aiders were deployed within the terminal building to offer assistance if needed. Designated areas with additional signage were set up for passengers to reconfirm their flight bookings with airlines. As the typhoon passed and gradually moved away from Hong Kong, the AEC oversaw communications and coordination with the public transportation sector on post-typhoon passenger transportation recovery and resumption arrangements. Over 400 volunteers were recruited to role play passengers whose flights were disrupted by Typhoon "Mako". The exercise was completed and stood down at 0500 hrs.
The following organisations took part in the exercise by role playing as affected passengers:
Agency for Volunteer Services
City University of Hong Kong
Hong Kong Air Cadet Corps
Hong Kong Adventure Corps
Hong Kong Institute of Vocational Education
The University of Hong Kong
Active participants in the drill included:
Airport Authority Hong Kong
Airline Operators Committee (AOC)
Aviation Security Company Ltd
Cathay Pacific Airways Limited
Cathay Pacific Services Limited 
Civil Aviation Department – Air Traffic Management Division
Hong Kong Airlines
Hong Kong Air Cargo Terminals Limited
Hong Kong Airport Services Limited
Hong Kong Dragon Airlines Limited
Hong Kong Express Airways Ltd.
Hong Kong Observatory
Hong Kong Police (Airport District)
Jardine Air Terminal Services
Jardine Airport Services Limited
JSL Ltd.
MTR Corporation (Airport Express)
Singapore Airport Terminal Services (HK) Limited
St. John Ambulance
United Parcel Service of America, Inc. (UPS)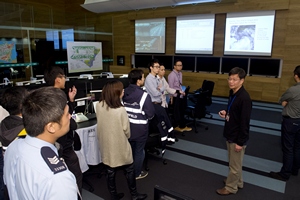 In the Airport Emergency Centre, representative of the Hong Kong Observatory briefs participants from different units including AA, Police, airlines and ground handling agents, on typhoon updates.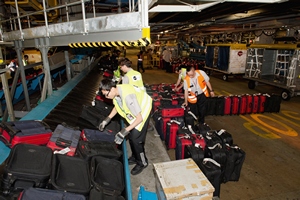 Additional manpower is deployed to handle increasing number of baggage due to Typhoon "Mako".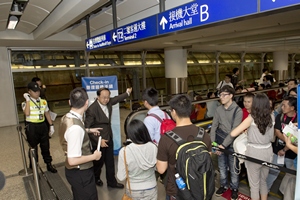 AA, airlines, security units and ground handling agents work hand-in-hand to assist passengers affected by Typhoon "Mako".