HKIA Wins Three International Best Airport Awards
(HONG KONG, 9 October 2010) – Hong Kong International Airport (HKIA) has again been honoured as the best airport worldwide – this time with three awards over the past three months from readers of renowned international publications TTG, Condé Nast Traveller and SmartTravelAsia.com. These recent accolades take the total number of best airport titles that have been bestowed upon HKIA to more than 40 since its opening.
Stanley Hui Hon-chung, Chief Executive Officer of Airport Authority Hong Kong, said he was delighted that HKIA has been recognised as the world's best once again. "Providing the best airport service has always been our core commitment. We are particularly happy to have received these three awards because they were all voted on directly by passengers and the travel trade. I would like to thank all the 65,000 staff in the HKIA community for their untiring efforts over the years. Without them, we would not have this stellar reputation for service excellence."
The most recent best airport award was from the 22nd Annual TTG Travel Awards 2011. It was determined between May and August 2011 by the 49,000 travel agents, hoteliers and other travel professionals who are readers of specialist trade publications TTG Asia, TTG China, TTGmice, TTG-BTmice China and TTG India. HKIA has been named the best airport in the same event since 2002, except in 2003 when the awards were not held.
Luxury travel magazine Condé Nast Traveller released its awards in end-August after collecting around 40,000 votes in its Readers' Travel Awards 2011. The survey rated a number of aspects including cleanliness, flight information/ clarity of signs, luggage handling, parking facilities/cost, and safety/security. HKIA came in first with an overall score of 85.72, scoring top marks for its design and layout as well as shopping and duty-free facilities.
Around 10,000 readers of SmartTravelAsia.com also chose HKIA as their favourite in the online publication's Best in Travel Poll 2011, organised between May and July this year. Readers like the efficiency of HKIA, the general speed of processing as well as the Airport Express and downtown check-in service. The airport also won the award in 2006 and 2007.
Mr Hui added, "Looking ahead, we will strive to do even better, making sure our facilities and service always meet the changing needs of our passengers and exceed their expectations."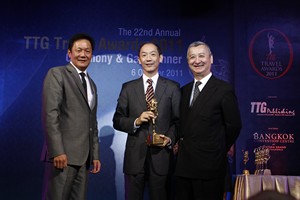 Henry Ma, AA's General Manager (middle), Airfield receives the TTG best airport award at the presentation ceremony in Bangkok on behalf of the authority.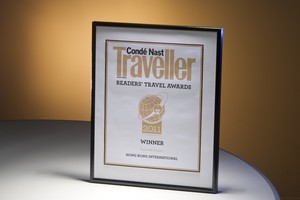 HKIA is named the world's best airport by Condé Nast Traveller after scoring top marks for its design and layout as well as shopping and duty-free facilities.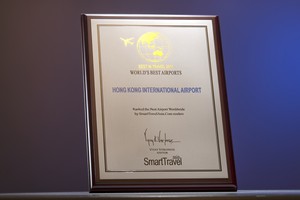 Around 10,000 readers of SmartTravelAsia.com choose HKIA as their favourite in the Best in Travel Poll 2011.