Airport Authority Sets New Profit Record of HK$4 Billion for
Financial Year 2010/2011
(HONG KONG, 29 June 2011) – The Airport Authority Hong Kong (AAHK) announced that Hong Kong International Airport (HKIA) set new financial and operational records in the financial year ended 31 March 2011, including a profit attributable to the equity shareholder of HK$4,035 million for fiscal 2010/2011, an increase of 41.9% from a year earlier.
Revenue rose 17.4% to HK$10,583 million while return on equity increased to 11.1% from the 7.8% recorded in fiscal 2009/2010. AAHK declared a final dividend of HK$3,100 million to the Hong Kong SAR Government. With the latest dividend, AAHK will have paid the government a total of HK$22.1 billion in terms of dividends and return of capital since fiscal 2003/2004.
On the operational front, passenger flow, cargo volume and flight movements all surged to new heights over the past year, reaching 51.5 million passenger trips, 4.2 million tonnes and 316,000 movements, representing strong year-on-year growth of 9.7%, 16.5% and 12.9%, respectively.
AAHK Chief Executive Officer Stanley Hui Hon-chung said, "We achieved remarkable results in fiscal 2010/2011 and set records for all performance indicators. This was largely buoyed by sustained economic growth in the Mainland and Hong Kong, a rebound in global trade and increased demand for aviation services. The surge in profit was mainly a result of record revenue, effective cost management and productivity gains.
"In view of the sustained economic expansion of the Mainland and global economies, we believe air traffic will continue to grow, albeit at a slower pace. Earnings growth in the near term is also expected to be tempered by slower traffic growth and the higher base that was created in fiscal 2010/ 2011."
While revenue rose 17.4% during the year, AAHK managed to contain the growth of operating expenses to just 4.9% and boosted operating margin to 66.3% from 62.3%. Airport and security charges rose 18.8% from a year ago to HK$4.07 billion, which was attributed mainly to robust air traffic and the end of the temporary 10% reduction in landing and parking charges for airlines in March 2010. Retail licences and advertising revenue grew 22.8% to HK$3.58 billion over the same period due to higher passenger volume. This category represented 33.8% of total turnover.
Commenting on AAHK's financial position, William Lo Chi-chung, Executive Director, Finance, said, "With strong EBITDA generated by operations and the financial strength of our balance sheet, AAHK's borrowing is at a healthy level of 16%. Coupled with a stable business outlook and AAA credit rating, AAHK is well positioned to continue enhancing HKIA's world-class service standards and expand its facilities to meet future demand."
Strong growth in cargo throughput helped HKIA surpass Memphis International Airport as the world's busiest cargo airport. HKIA is also the third-busiest international passenger airport in the world. In fiscal 2010/2011, HKIA was named the world's best airport by Airports Council International (among facilities serving over 40 million passengers annually), Skytrax and TTG Publishing.
Mr Hui commented, "All these achievements have reconfirmed HKIA's status as one of the finest and busiest aviation centres in the world. Timely investments in our people, facilities and services are critical to maintaining our competitiveness."
AAHK completed a HK$4.5 billion capacity and service enhancement programme last year. "In fiscal 2011/2012, we will embark upon a three-year, HK$495 million rejuvenation programme to enhance our system reliability and customer satisfaction. We will also start construction on the Phase 1 development of the Midfield in the third quarter of 2011," added Mr Hui.
Expected to be completed in 2015, the Phase 1 Midfield development includes a new Midfield Concourse with 20 parking stands, a new cross-field taxiway and the extension of the existing automated people mover (APM) to the Midfield Concourse.
The rejuvenation programme will overhaul some of HKIA's utilities, airfield ground lighting as well as electrical, mechanical, loading bridge and baggage handling systems. In addition, the airport's public washrooms will be renovated and the APM and apron bus facilities will be refurbished.
To address the airport's long-term needs, AAHK released the Hong Kong International Airport Master Plan 2030 in early June and put forward two airport development options for a three-month public consultation, which will end on 2 September 2011. 
Mr Hui said, "It is important to recognise that infrastructure such as HKIA plays a critical supporting role for Hong Kong. Aviation, including the airport, underpins the four pillars of the Hong Kong economy: financial services, trading and logistics, tourism, and producer and professional services. Infrastructure development will provide benefits to Hong Kong for generation after generation. We are firmly committed to ensuring that HKIA continues to be a regional and international aviation centre, and that it contributes to the long-term sustainable growth of Hong Kong."
AAHK has a proven track record of sustainability and green initiatives in its day-to-day operations and development activities. Over the past financial year, AAHK reduced its carbon emissions by an equivalent of 4,030 tonnes through the use of clean fuel and optimisation measures for its chiller, lighting, escalator and lift systems, among others.
HKIA and around 40 business partners also pledged to reduce the airport's carbon intensity by 25% per workload unit by 2015, making HKIA one of the world's first to introduce such an airport-wide programme. It also marked the first voluntary, sector-wide carbon-intensity reduction pledge in Hong Kong.
AAHK's Mainland joint ventures continued to make steady progress in terms of their financial results and traffic performances. During the year, AAHK also established sister airport relationships with Beijing Capital International Airport and Chicago O'Hare International Airport.
-- Ends --
Download the Annual Report 2010/11 :
http://www.hongkongairport.com/eng/business/airport-authority/publication/annual-report/annual-reports-2010-11.html


AAHK Chief Executive Officer Stanley Hui Hon-chung (right) and Executive Director, Finance, William Lo Chi-chung (left), announce the results of financial year 2010/2011.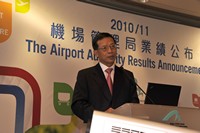 Mr Hui says AAHK achieved remarkable results in fiscal 2010/2011 and set records for all performance indicators.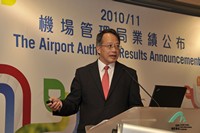 Mr Lo says AAHK is well positioned to continue enhancing the airport's service standards and expand its facilities to meet future demand in view of a strong EBITDA generated by operations, a sound balance sheet, stable business outlook and an AAA credit rating.