HKIA Receives the World's Best Airport Award Among Airports Handling Over 40 Million Annual Passengers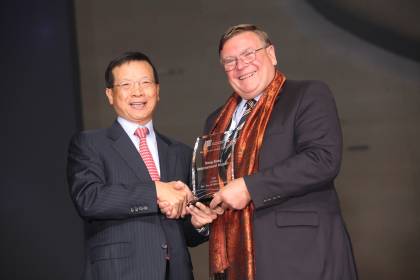 (HONG KONG, 8 April 2011) - At the Gala Dinner and Airport Service Quality Awards Ceremony held in New Dehli, India on 7 April, Stanley Hui Hon-chung, Chief Executive Officer of Airport Authority Hong Kong (left), received the World's Best Airport Award among airports serving more than 40 million passengers from Max Moore-Wilton, Chairman, Airports Council International (ACI) World. This is the fifth consecutive year for HKIA to win this award.
In ACI's Airport Service Quality Survey 2010, HKIA was particularly appreciated by passengers in key areas like availability and cleanliness of washrooms, level of comfort of waiting areas, ambience of the airport, feeling of being safe and secure and customs inspection.
Details of the award are available at:
http://www.hongkongairport.com/eng/media/press-releases/pr_1021.html
Over the last decade, HKIA has received nearly 40 world's best airport recognition. The most recent wins included the best airport titles bestowed upon HKIA by the TTG, Skytrax and ACI.