HKIA Wins Skytrax's World's Best Airport Award 2011
(HONG KONG, 31 March 2011) – Hong Kong International Airport (HKIA) was honoured once again at a ceremony held in Copenhagen on 30 March as the World's Best Airport in the annual passenger survey by Skytrax, a London-based air transport research organisation. This is the eighth time that HKIA has won the award since 2001. The airport also won the awards for Best Airport Asia and Best Airport Dining in the same survey.
According to Skytrax, the awards were based on 11.38 million online survey questionnaires collected between June 2010 and March 2011 from air passengers representing over 100 nationalities, covering more than 240 airports worldwide. The World's Best Airport survey evaluated travel experiences across 39 different airport service and product factors, including check-in, arrivals, transfers and departure at the gate. HKIA was noted in particular for the overall ambience of its terminals, ease of use, signage, airport dining, good shopping facilities and connectivity to the downtown area.
Stanley Hui Hon-chung, Chief Executive Officer of Airport Authority Hong Kong (AA), said, "Maintaining customer service excellence at HKIA remains our top priority as we receive more and more passengers and airlines at this airport, reaching 51 million passengers in 2010. We are very honoured to receive the World's Best Airport award, which is a recognition by the global flying public that HKIA has continued to meet and exceed passengers' expectations."
Expressing his gratitude to the 65,000 members of the HKIA community for their efforts over the years, Mr Hui added, "As we continue enhancing HKIA's facilities to serve its ever-growing air traffic demand, we will also continue working hand-in-hand with our business partners to further invest in both our facilities and people to give an even better airport experience for the passengers."
Howard Eng, AA's Executive Director, Airport Operations, received the Skytrax awards on behalf of HKIA at the award presentation ceremony. Singapore's Changi and Korea's Incheon airports won second and third place in the World's Best Airport survey.
HKIA has won nearly 40 best airport awards from various international and regional organisations since opening in 1998.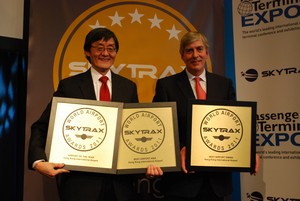 Howard Eng (left), AA's Executive Director, Airport Operations, is delighted to receive three awards including the World's Best Airport award from Edward Plaisted (right), Skytrax's Chairman, in Copenhagen.