HKIA Scoops "Best Airport in China" Award
(HONG KONG, 18 November 2010) – Hong Kong International Airport's (HKIA) dedication to providing a pleasant and memorable airport experience for worldwide passengers has once again been recognised with the bestowal of the "Best Airport in China" award in Shanghai yesterday. Over the past decade, HKIA has crowned the world's best airport for more than 30 times.
Reaffirming the excellence of HKIA's services and facilities, this is the fourth time in six years HKIA has received this accolade from leading travel publication Business Traveller China.  Since the annual survey was launched in 2005, HKIA has also taken home the same award in 2006, 2007 and 2008.
Reflecting on the achievement, Airport Authority Chief Executive Officer Stanley Hui Hon-chung said, "Teamwork, a quality service culture and an ongoing pursuit of excellence define HKIA. We are delighted that travellers have shown continued confidence in HKIA's facilities and services. This award is a strong feedback on the ceaseless efforts made by our entire 60,000 airport workforce, including our business partners and government departments. This award belongs to everyone working at HKIA."
"Winning this award has also reaffirmed our status as a preferred gateway to the Chinese Mainland, as well as an international and regional aviation centre.  We will continue to upgrade our facilities to ensure pleasant and seamless journeys for all travellers at HKIA," he added.
In addition to this recognition, HKIA has received more than 10 other local and international awards related to airport facilities and services this year. These include being named "Best Airport" at the 21st TTG Travel Awards 2010; as well as being selected as "World's Best Airport" by the Airports Council International among airports with an annual passenger throughput of over 40 million.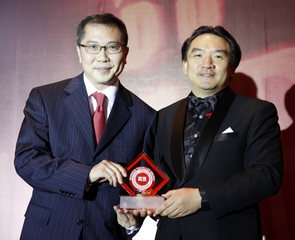 AA General Manager of Retail & Advertising Michael Yuen (left) attended the ceremony on behalf of AA to receive the "Best Airport in China" award.