HKIA Crowned Best Airport for Eighth Consecutive Year
(HONG KONG, 8 October 2010) – Hong Kong International Airport (HKIA) continued its winning streak at the 21st TTG Travel Awards 2010, taking home the award for Best Airport for the eighth time in a row. 
Attending  the  awards  presentation  ceremony  in  Bangkok,  Stanley Hui Hon-chung, Chief Executive Officer of Airport Authority Hong Kong, said, "The winners of the TTG Awards are voted on by TTG readers across the Asia Pacific region each year, which demonstrates the travel industry's support for HKIA. It is also testimony to the hard work of the 60,000 staff in the HKIA community who strive to maintain excellent service every day."
He added, "As traffic at HKIA continues to grow, we will  further enhance our service and facilities to ensure that passengers have the best possible travel experience at HKIA, and that airlines and other airport-related businesses can operate in a reliable, safe and efficient manner. "
The TTG Travel Awards were voted on by over 48,000 readers of TTG Asia, TTG China, TTGmice, TTG-BTmice China and ttgasia eDaily between June and August of this year. The Awards have been held every year since 1989, with the exception of 2003 due to the SARS epidemic. 
HKIA has received more than 10 other awards related to airport facilities and service this year, both locally and internationally. These include Airports Council International's "World's Best Airport", selected among airports with an annual passenger throughput of 40 million-plus; Air Transport Research Society's Asia-Pacific Airport Efficiency Excellence Award; and Air Cargo World's Airport Cargo Award of Excellence.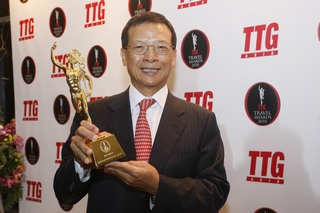 AA Chief Executive Officer Stanley Hui Hon-chung attends the presentation ceremony of the 21st TTG Travel Awards 2010 in Bangkok to receive the Best Airport award.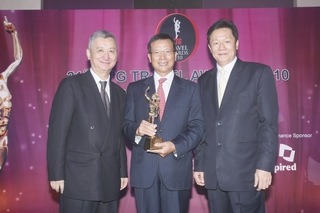 AA Chief Executive Officer Stanley Hui Hon-chung takes pictures with TTG Asia Media Pte Ltd. Chairman Fred Wang (left) and Managing Director Darren Ng (right) during the ceremony.