Airport Authority Declares Dividends of
HK$4,500 Million to Government
 (HONG KONG, 30 June 2010) – Airport Authority Hong Kong (AA) today declared a total of HK$4,500 million in dividends – composed of an ordinary dividend of $2,300 million and a special dividend of $2,200 million – to its sole shareholder, the Hong Kong SAR Government, for the financial year 2009/2010.
Stanley Hui Hon-chung, Chief Executive Officer of the AA, said in view of the AA's strong financial position, the Board declared the special dividend out of previous accumulated retained profits. The AA has paid a total of $18,980 million, including $12,980 million in dividends and $6,000 million in capital repayment, to the government since the financial year 2003/04.
For the year ended 31 March 2010, the AA reported that profit attributable to its equity shareholder surged 9.9% to $2,844 million over the previous year. Meanwhile, revenue grew by 1.5% to $9,015 million and return on equity rose to 7.8%.
The solid financial performance was achieved despite the volatile operating environment resulting from the global economic downturn. Passenger traffic and air traffic movements at Hong Kong International Airport (HKIA) recorded year-on-year declines of 1.7% and 5.4% to 46.9 million and 280,000 respectively during the financial year. Cargo throughput, however, registered 3.6 million tonnes, representing growth of 4.4% over the same period.
Mr Hui said, "We were able to achieve sound and satisfactory results despite the challenging market due to strict cost controls, productivity gains, increased revenue from retail operations as well as an improving economic climate starting from the fourth quarter of 2009.
"Meanwhile, growing non-aeronautical revenue not only provided the AA with a strong income stream, but also offset the revenue reduction of $242 million resulting from a relief package comprising landing and parking charge reductions and deferred rental payments between April 2009 and March 2010.  The relief package was introduced to help airlines and other operators at HKIA weather the impact of the financial crisis."
HKIA further strengthened its competitive edges as an international and regional aviation centre and preferred gateway to the Mainland through continuous enhancement of its hardware and software. The new SkyPier cross-boundary ferry terminal and the North Satellite Concourse (NSC), which provides 10 bridge-served parking stands for narrow-bodied aircraft, entered service in January 2010. The new SkyPier provides a significantly improved operating environment and efficient service conveying passengers travelling between the Pearl River Delta and the world via HKIA. The NSC, together with Terminal 1, enables about 98% of passengers to enjoy the comfort and convenience of embarking upon and disembarking from aircraft via air bridges at HKIA.
The HKIA Precious Metals Depository and phase 1A of the Permanent Aviation Fuel Facility also commenced operations during the financial year.
The service excellence of HKIA was recognised by several organisations in 2009/10. Airports Council International named HKIA the world's best airport among facilities serving over 40 million passengers annually for the fourth consecutive year. In addition, the airport won best airport in the TTG Travel Awards for the seventh time since 2002 as well as the 2009 top service brand award from the Hong Kong Brand Development Council and the Chinese Manufacturers' Association of Hong Kong.
Commenting on the AA's financial performance, AA Financial Controller Eric Leung Luen-fai said, "We continue to emphasise safety, security and service standards alongside prudent cost control. This helped us reduce the airport's operating expenses by 2.7% to $3,402 million before depreciation and amortisation, notwithstanding the increase in costs associated with the opening of the new facilities."
Noting that HKIA's importance as a multi-modal transportation hub will continue to increase in the next decade, Mr Hui reiterated that the airport is working closely with the SAR Government to ensure that the Hong Kong -Zhuhai - Macao Bridge, Hong Kong Boundary Crossing Facilities, and Tuen Mun - Chek Lap Kok Link will be effectively integrated with the airport's existing and future infrastructure. 
HKIA and the air transport sector play a pivotal role in supporting Hong Kong's economy. In 2009, the value of Hong Kong's external merchandise trade by air accounted for 35% of Hong Kong's total value of trade in goods. In addition, as Hong Kong is a top financial centre in the world, extensive regional and international air service coverage is essential to maintain its competitiveness for international firms operating businesses in the city. There was over 3,500 regional headquarters and regional offices in Hong Kong, representing parent companies located outside Hong Kong in 2009.
In view of the buoyant Chinese economy and Hong Kong's unique position both as a preferred gateway to the Mainland and as an international and regional aviation centre, HKIA will launch its midfield expansion programme in phases. The project will increase the handling capacity of the airport to 70 million passengers and six million tonnes of cargo, which is expected to cope with air traffic demand up to 2020.
The initial phase of the expansion, comprising a midfield concourse and an automated people mover connection with Terminal 1, is expected to be completed by 2015. A total of 20 parking stands, including 11 bridge-served stands and nine remote stands, will be provided. Detailed design of the phase 1 midfield expansion has started, and construction work is planned to begin in the third quarter of 2011. 
During phase 2 of the midfield expansion, the nine remote stands constructed in phase 1 will be converted to bridge-served stands. Another 10 remote stands located to the west of the concourse will also be built. As a result, a total of 20 bridge-served stands and 10 remote stands will be available by 2020.
Mr Hui said, "We are currently working on the airport's development blueprint for the coming 20 years, HKIA Master Plan 2030, which includes studies on the engineering and environmental feasibility of a new runway and passenger concourse as well as other related passenger and aircraft facilities. The master plan exercise also includes studies assessing traffic demand forecast and economic impact. We will consult the public and stakeholders in a public engagement process when the Plan is completed.
"The AA is committed to running the airport sustainably," he added. "In the financial year 2009/10, we managed to reduce over 5,800 tonnes of carbon emissions through a wide range of initiatives, including waste reduction and recycling, temperature adjustment in terminals, optimising our lighting system and using clean fuel. In addition, we processed 1.1 million cubic metres of grey water, a portion of which was used for airport landscape irrigation during the year."
In addition to the ongoing Mainland joint ventures at Zhuhai Airport and Hangzhou Xiaoshan International Airport, the AA also set up a new joint venture with Shanghai Airport (Group) Company Limited in October 2009 to manage Shanghai Hongqiao International Airport's two passenger terminals, Hongqiao's east transportation centre and retail business.
Looking forward, Mr Hui said the AA will continue to maintain the sustainability and competitiveness of HKIA through medium- and long-term planning and development of the airport. "We also look forward to the completion of major infrastructure projects, namely the Hong Kong - Zhuhai -Macao Bridge, Hong Kong Boundary Crossing Facilities, and Tuen Mun -Chek Lap Kok Link, which over time will greatly enhance the position of HKIA as a regional and international aviation centre, serving the economic development of Hong Kong and the Pearl River Delta," he added.
Download the Annual Report 2009/10:
http://www.hongkongairport.com/eng/media/publication/annual-rep-index.html


(from left to right) AA Financial Controller Eric Leung Luen-fai, Chief Executive Officer Stanley Hui Hon-chung and Executive Director, Airport Operations, Howard Eng Kiu-chor announce the results of financial year 2009/10.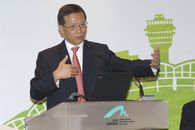 Mr Hui says in view of the AA's strong financial position, the Board declares a total of HK$4,500 million in dividends to its sole shareholder, the Hong Kong SAR Government for the financial year 2009/10.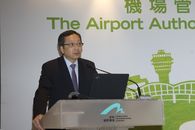 Mr Leung says AA will continue to emphasise safety, security and service standards alongside prudent cost control.